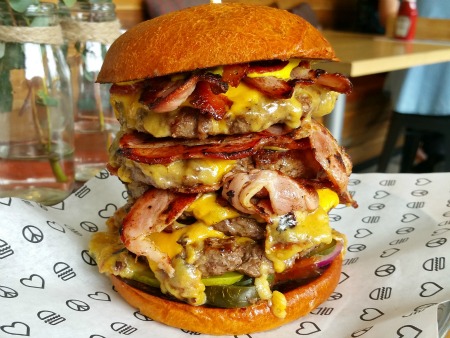 The Experience: To finish off the long weekend with a bang I headed into Hello Sam Burger Cafe. I was revisiting the place for the second time, and after a good experience the first time around i knew what i was walking into. Situated in the hustle and bustle of South Yarra, they provide an extensive menu to suit all desires. The venue provides ample seating indoors and a nice seating area outside, perfect for those summer days enjoying a burger and beer as the venue is also licensed.
Burger Ordered: Quad Uncle Sam w/ bacon and jalapeños.
The Taste: I decided to go with a classic from their menu, The Uncle Sam. This does come as a one, two or three patty option, but I super-sized by adding one more. The beef was cooked well but not overdone, as it was holding plenty of juiciness throughout each patty. Every piece of cheese had been melted ideally over the beef, creating the perfect match. I was in heaven when i saw the bacon cooked nice and crispy, just the way i like it. It was topped of with a structurally sound bun, fresh jalapeños and sauces, bringing the whole burger together.
The Verdict: The first time I came here, I was fairly impressed. Leaving this time, I was even more so. With summer just around the corner, I will definitely be back down to eat and relax. I recommend you doing the same.
Hello Sam Burger Cafe is located at 760 Chapel Street in South Yarra, Victoria, Australia.
Check out more Australian burger adventures at Damoforce.
Sign up for Burger Weekly email updates!