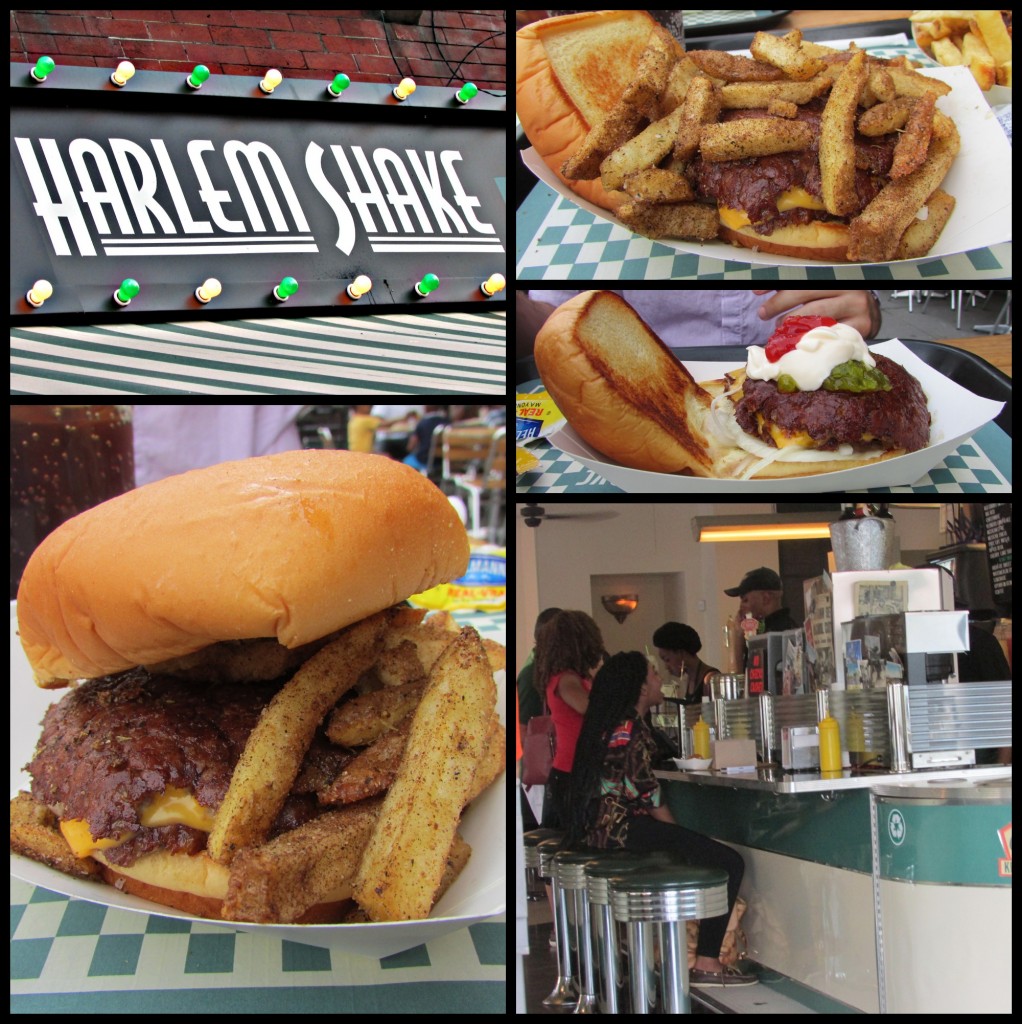 The Experience: I have been remiss in my duties as a collector New York City burger experiences. I say this because, despite spending my first three years as a New York resident living in Harlem, I have yet to report on a single Harlem burger. Capitalizing on the viral bastardization of the neighborhood dance craze, Harlem Shake opened back in May. I grabbed Burgermeister Simon, waited in line, listened to the incredibly loud music that plays in the burger shack, and ordered a type of burger I'd never had before.
Burgers Ordered: The Harlem Classic with Cheese and the Jerk Fry Burger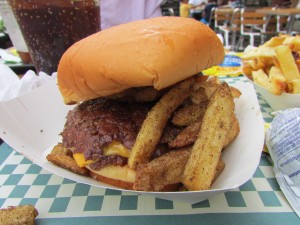 The Taste
: The Harlem Classic is a double patty with cheese in the middle, onions, pickles, and special sauce. Simon had been in the mood for sauce, which is why he went with this option. However, in his hunger he loaded up on so many condiments that he couldn't make out the distinct flavor of the sauce. Still, he liked the burger quite a bit, saying that the different elements he'd put together played off of each other quite well.
I went with the Jerk Fry Burger and a side of fries. Needless to say, I overdid it with the fried potatoes. I actually had to take a few of the jerk fries off of the burger because they made it a little too tall to eat. Still, the jerk seasoning made these fries stand out from the ones I got on the side. If you're not a fan of heavy seasoning you'll probably want to play it safe with a regular hamburger, because these bad boys packed a punch. The jerk mayo on the burger was also no joke. This was an incredibly flavorful meal. It got to the point that, while I loved what was happening on my tongue, I was in dire need of a lot of hydration when all was said and done.
The Verdict: The Jerk Fry Burger is different enough from a regular hamburger that the fries on top act as more than a silly novelty (I'm looking at you, Burger King). Moreover, Harlem Shake's patties are tasty enough to warrant a visit for even a regular hamburger.
Harlem Shake is located at 100 West 124th Street in Manhattan, New York.