And Now, A Bit of History |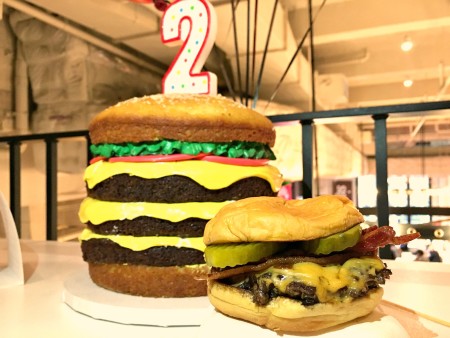 Andrew Zurica's burgers have gotten a fair bit of play on this blog. Recently, his Hard Times Sundaes brand of burgers celebrated their second anniversary. In celebration of the man who slapped a Burger Weekly photo on the side of is truck, here's a bit of my history with Zurica's burgers.
Over three years ago I was invited to Mill Basin, Brooklyn to visit the Luncheonette, Zurica's brick-and-mortar burger joint. The Luncheonette had just reopened after Hurricane Sandy had put them out of business for a short time, and were hoping that some exposure outside of their local customers. Zurica knew that his food was top notch, and all he needed was for folks to come out to the far east side of Brooklyn to try it.
It turned out that post-hurricane costs and the lack of a nearby subway meant doom for the Luncheonette, and the huge pub burgers and amazing grilled peanut butter and jelly sandwiches that the restaurant was putting out were as good as extinct.
The next time I ate one of Zurica's burgers was at a popup he did on the Upper West Side at Jalapeño. He showed his versatility with a Mexican-style burger for scores of hungry guests who had shown up just because he was there. Unfortunately for the restaurant, when Zurica left the crowds died down and it is no longer in business.
But Zurica's luck finally turned around when he revved up his now famous burger truck, Hard Times Sundaes. I was flattered when he asked me to use the photo from my trip to the Luncheonette on the wrap for the truck, but surprised to find that he was now serving smaller, smashed burgers in his burgermobile. Still, what the burgers lost in size they retained in flavor, and Zurica was finally able to get more people to come out to his Mill Basin parking lot location thanks to a few mobile shows in and near Manhattan.
After moving the truck for a brief time to a parking lot in Williamsburg, Brooklyn, Zurica secured a spot in East Midtown's Urbanspace Vanderbilt when it opened last year. It was there that they celebrated their two-year anniversary as Hard Times Sundaes, and announced not only a lease renewal at the food court, but a second location coming soon to Brooklyn (near the subway).
So congratulations to Mr. Zurica on his continued success, and even more importantly to his delicious burgers.
Sign up for Burger Weekly email updates!