Multiple Burgers to Help Cure Your Hangover |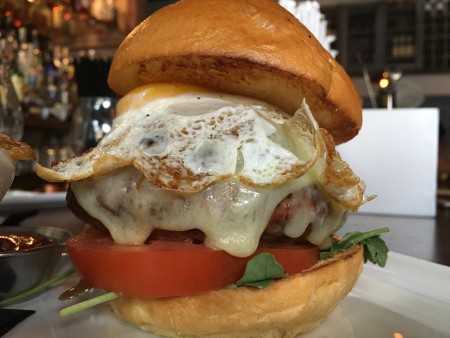 Burgers aren't just nourishment, they can also trick you into thinking your hangover isn't so bad. That was the outcome I was looking for when I met friends at Handcraft Kitchen & Cocktails for what was to be the start of a day of drinking and eating. My four-person crew ordered three burgers and an order of wings, which I thought would be sure to settle my stomach.
Burgers Ordered: The Handcraft Burger, the Bison Burger, and the Breakfast Burger
The Taste: The Bison Burger was the easy winner of the three. It came topped with avocado, bacon, Manchego, tomato, onion, and chipotle aioli on a brioche bun. Avocado and bacon are so good together that I'm surprised you don't see them paired more often. The bison patty was just plain outstanding.
The Breakfast Burger (pictured above) was difficult to share. A runny egg will do that to a burger. That said, brioche, beef, cheese, and fried egg are a breakfast combo that can't be beat. The burger served my stomach lining well.
The Handcraft Burger brought the goods with everyone's favorite new burger topping: bacon jam. But bacon jam and cheddar cheese go together as well as traditional bacon (who ever thought that would be a phrase?) and cheddar do, so it was another easy hit from Handcraft.
The Verdict: Two good burgers, one great burger, and a very necessary plate of chicken wings totally saved my day, and the beer selection wasn't too shabby either. Check this place out for brunch and some hair of the dog.
Handcraft Kitchen & Cocktails is located at 367 3rd Avenue in Manhattan, New York.
Sign up for Burger Weekly email updates!