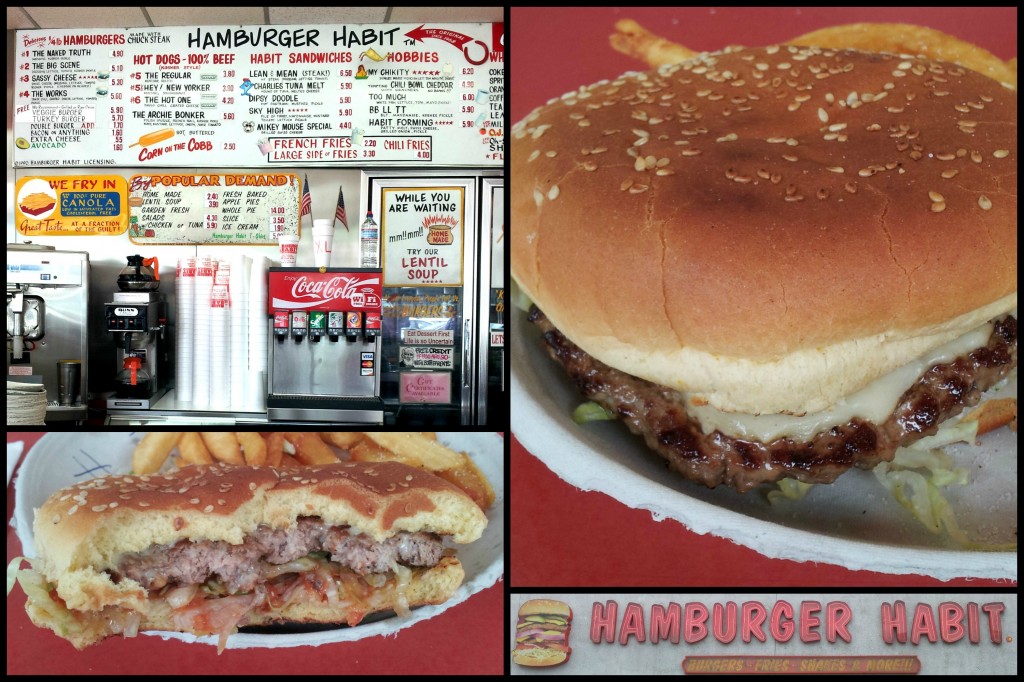 The Experience: Hamburger Habit is quaint little burger joint located in a mini mall at the intersection of National & Sepulveda. The interior has the theme of a '50s style diner, with walls covered in a hodgepodge of old posters and Coke signs in different languages from around the world. Their menu is a selection of classic American food items, such as hamburgers, hot dogs, sandwiches, and milkshakes. Another unique feature of the restaurant is the manner in which they call customers when their food is up. Instead of using a name or order number, customers are handed a playing card (i.e. ace of spades), which is then called out to let them know that their order is ready.
Burger Ordered: #3, Sassy Cheese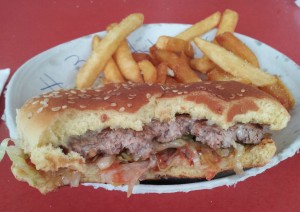 The Taste
: The Sassy Cheese was a ¼ lb patty topped with lettuce, tomato, Swiss cheese, and dressing, which is a red, relish-like sauce. The patty is on the thin side, but the burger size is somehow deceptive; it's actually quite filling. I've ordered the double before, and was barely able to finish. Despite being thin and on the leaner side, the quality of the meat is good enough that they are able to keep it juicy and flavorful. I've also become a big fan of the shredded lettuce with which they top their burger. I'm also a huge fan of their fries. They are perfectly crispy, but not too oily. I always save a few fries for the end as my way of finishing off the meal.
The Verdict: You won't find anything fancy on the menu here. However, the quality of the meat and ingredients is impossible to miss. I've been here numerous times, and I can't remember them ever having an "off" day. The prices are reasonable, and the burger is always satisfying. It's a great spot to grab a burger and a shake.
Hamburger Habit is located at 11223 National Blvd. in Los Angeles, California.