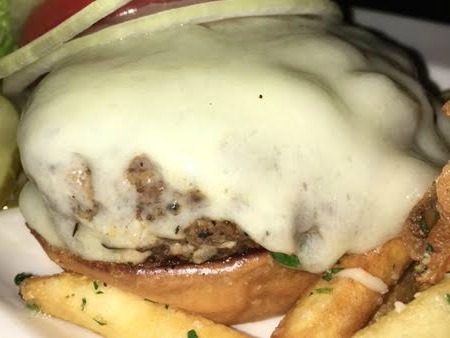 There are many delicious burger options in Charleston, but one of the best burgers for quality and price is where you'd least expect. It's at a fancy steakhouse called Hall's Chophouse. Each day, Halls trims a variation of their finest cuts of beef then sets aside the remains. The beef combo mixture is then grounded to form what eventually becomes their signature Chophouse burger. It's one of the largest regular sized menu burgers you'll likely get served and eat in Charleston.
The Burger:  Halls Chophouse Burger
The Taste: The meat alone, without the bun and extras, weighs 10 ounces. Because the burger meat blend is mixed daily with a variation of its choice cuts, there is always a perfect blend of lean and fat in each juicy bite. Additional seasoning is not required. The burger comes with your choice of cheese (I had mine with Gruyere), along with lettuce, tomatoes, pickles and onions, and then piled high onto a brioche bun.  Order yours medium rare to get the best meaty flavorful experience. Condiments come on the side, but in my opinion they are not needed as at Halls, it's more about savoring the delicious flavors of the combined meats. Although the burger is only listed on the bar menu, you can order and enjoy it at the restaurant dining room.
The Verdict: If you're looking for a top notch delicious steakhouse burger without additional toppings, Halls is where you want to go. It would be hard to find a burger of this quality or quantity anywhere. The Halls Chophouse burger is only $12 and includes an order of Parmesan Truffle Fries with a sprinkle of onion rings.
Halls Chophouse is located at 434 King Street in Charleston, South Carolina.
Sign up for Burger Weekly email updates!