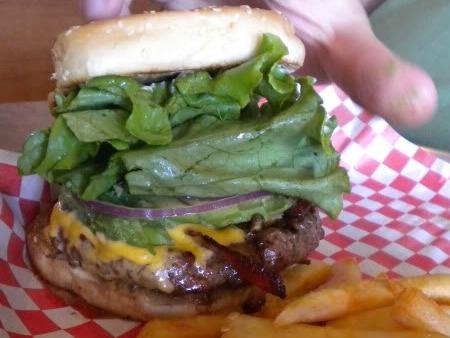 The Experience: Hall of Flame is on the outskirts of San Francisco proper, right next to a college campus. In fact, it's so far out there and a little difficult to find that it took all of my wits and skill to locate the joint, even though my group had two smartphones and a person with encyclopedic knowledge of San Francisco streets. Believe me, if you give this man an address not only will he know the location, but he'll have a story about how once he, Jimmy Durante and Eva Gardner ate steaks at a bistro down the street, only to have Jimmy J.J. Walker show up, high-five him and shout, "Dyn-o-MITE, George!" But Hall of Flame almost stumped even him. Bring a map, a GPS and one of those dogs with a barrel of whiskey around its neck.
However, once you get there – PARKING! That's right, San Franciscans, a place that you can park without dealing with meters or the low, low parking garage rate of $4 for every 20 minutes. People who don't live in San Francisco might not understand, but we can all nod at each other with the thousand-yard stare we've earned from years of parking in this tiger cage of a city.
Once you walk into Hall of Flame you'll notice that it doesn't look like anything that would blow your mind, unless you're the type who fantasizes about hanging out in the room of an 11-year-old sports fan, in which case you're probably on the wrong blog altogether.
Hall of Flame did have the added fun of a broken light in the bathroom which flashed like a strobe, so after returning George did start reminiscing about the disco era and some wild nights spent on floors made of flashing lights with his shirt unbuttoned to his navel. But I'll bet they've fixed that by now. But without that light we'd never have known that George cowrote "Funkytown."
The menu at Hall of Flame isn't huge, but they do have a decent lineup – ahem, sports pun! – of burger options, all of which are named after sports terminology. Although if you were to walk into a place in my neighborhood and order a "Hum-Dinger" you would be breaking the law in at least 14 states. And then be eligible to run as a Republican in a major election.
The kitchen is right out in the open so you can watch them cook the burger, something that never bodes well at a Taco Bell but isn't bad here. The place did get a little smokey during the cooking process, but it smelled pretty delicious. The vent could have been running a little earlier and the restaurant got as smokey as a family reunion held in a barn in Florida, but it cleared up quickly once they turned it on.
Every burger comes on a metal tray with lettuce, pickles, onion and tomato and an order of fries, which is a nice addition for the price. And there's nothing quite like the visceral thrill of having a giant metal pan covered in meat and fried potatoes placed in front of you.
Burgers Ordered: The Alley-Oop, the Humdinger, the Chili Davis, and a regular hamburger.
The Taste: Every burger at Hall of Flame is a ½ pounder made from Niman Ranch, always a popular choice with us and a steadfast target for the tummy.
The Alley-Oop is Hall of Flame's most popular burger – it is topped with cheese, avocado and bacon. It sure is a pretty burger. Hall of Flame has a few different cheese choices to pick from to top your burgers with to make those gooey calories in whatever flavor your clogged, slowing heart desires.
The Humdinger is topped with Swiss cheese, sauteed onions and mushrooms.
The Chili Davis is a burger covered in a heaping helping of Hall of Flame's homemade chili. It was an especially fun burger to attempt to stuff into our noiseholes. We initially started with the intention of picking it up and actually eating it with our hands, but that plan was quickly squashed. Being a gentleman of the highest order I couldn't bring myself to do it in polite society.
Other than the chili-coated mountain of awesome that is the Chili Davis, everybody else had nothing but good things to say about the burgers. The buns held up nicely and the meat was cooked perfectly to order, something that's been slipping at burger joints lately. If I wanted to eat something overcooked and flavorless I'd track down a Denny's.
The Alley-Oop earned its rank as the most popular selection at Hall of Flame. High points went to both the bacon and the avocado, and when you combine the two it's a winning duo, like milk and cookies, sweatpants and videogames or cheap beer and a Poison concert.
Hall of Flame gets an early advantage for going with the Niman Ranch beef. They don't grind their meat on the premises, but they do get their meat delivered fresh daily and it's never frozen. We were all very happy with our burgers and Hall of Flame got major points.
The toppings were also fresh, flavorful and a nice addition. The veggies were crunchy and delicious, the bacon was thick and crispy and the chili was none too shabby. There is no shame in Hall of Flame's game. If any lame-ass food critics try to steal that from me, I demand a burrito. The fries aren't too shabby, either. They're nice and thick, which probably sounds perverted, with a crispy crunch to the outside and good potato flavor on the inside. Plus, they come standard with every burger, always a bonus.
And on another note, at some point either a few in our group went up to the counter and asked for some barbecue sauce. They started with a little on their burgers, then started dipping the fries into it, then finally just jamming their dirty fingers into the tub and sucking the juicy goodness off their digits like mental patients. They told all of us we should try it, but watching them transform from normal people into wretched drug addicts in the span of 90 seconds was too frightening for any of us to consider. If you find George standing outside a church asking for change, know that it was barbecue sauce that drove him so low. We were all sure it would be the House of Prime Rib.
Eating a half pound of beef in one sitting should be dangerous for just about anybody except retired wrestlers and linebackers who are under contract to gain 500 pounds within two years of leaving their sports. But Hall of Flame chose wisely with the Niman Ranch beef, and each and every one of us walked out with our heads held high.
The Verdict: The burgers at Hall of Flame were very well-received. Their location makes them a little difficult to get to without a car, GPS and sherpa guide, but all of us agreed that if we were living at the nearby campus we'd be making a strong effort to add to the Freshman Fifteen at Hall of Flame.
Hall of Flame is located at 73 Cambon Drive in San Francisco, California.
Find Drew and his comedy schedule here.
Sign up for Burger Weekly email updates!