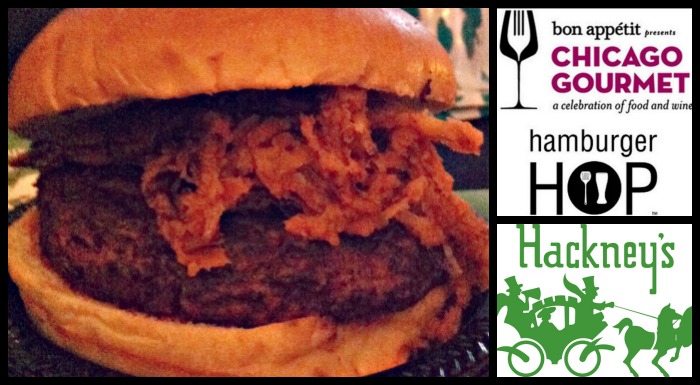 The Experience: This is the ninth and final entry in my ten-burger series chronicling my experience at the Hamburger Hop event at "Chicago Gourmet: A Celebration of Food and Wine" presented by Bon Appetit. Top area chefs battled in a burger competition while guests enjoyed tasty, gourmet burgers, along with beer, wine, and other boozerific treats. A celebrity panel of judges, including Graham Elliot, Hubert Keller, and Yoshi Katsumura determined the city's Best Burger. This being the final entry in the series, I'll be reviewing the burger from both Hackney's and the Sandwich King, for reasons I'll reveal below.
Burgers Ordered: Hackney's Bacon Cheddar Burger and the Sandwich King's Drive-In Burger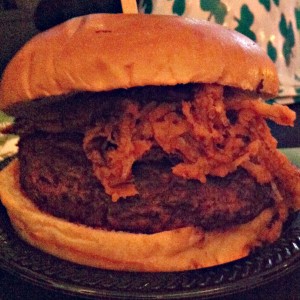 The Taste: The Bacon Cheddar Burger was topped with its namesake as well as fried onion strings. It was greasy in all the right ways. The crunch of the onions and the taste of the cheese perfectly complemented each other. It was also brilliantly savory. It was, safe now to say, the best burger at the Hamburger Hop.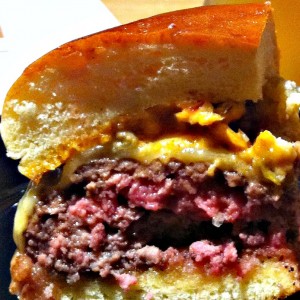 Now the reason I'm writing about the Sandwich King's burger here and not in its own review is because the Sandwich King is a culinary personality, not a proper restaurant. Jeff Mauro hosts The Sandwich King on the Food Network. As for his burger… can we just say jalapeño Havarti? It had just the right amount of kick and cheesy goodness. It's no wonder that a number of people liked this one the best. Mauro was also very personable.
The Verdict: So there you have it. Hackney's was the best burger I had at the Hamburger Hop, followed by Howell's & Hood and RL. Make sure you check out all three restaurants, because their burgers are insanely good.
Hackney's is located at 733 South Dearborn Street in Chicago, Illinois.