Burger Night
Burgers Ordered: Brad – Avocado Bacon Burger; Nolan – Cheeseburger
The Experience: There's nothing more exciting to a Burgermeister than a deal on a hamburger. The Habitat in Greenpoint has specials every night.  Some might be enticed by the $5 macaroni and cheese on a Monday nights, or the happy hour specials all weekend.  Some might enjoy trivia night on Wednesdays or 35-cent wings on Tuesdays.  But the Burgermeisters were attracted to the $8 burger special on Thursday nights when alerted to it by their Brooklyn Burger Specialist Kate.  Kate is a regular at Habitat, but when she met Burgermeister Brad at the joint she brought a ringer named Nolan to eat a burger in her stead.  It was all the same to Brad; he'll chow down with any burger buddy.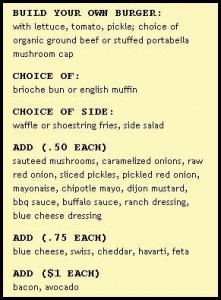 Habitat's burger menu is of the build-your-own variety. For staggered (but very cheap) prices you can add on a myriad of toppings, sauces and cheeses.  You also have your choice of a brioche bun or an English muffin.  Brad and Nolan both selected the English muffin.  Brad added avocado and bacon.  Nolan added cheese.  Brad got regular fries, Nolan ordered waffle fries.  After a short wait and a nice conversation with Thai, the Habitat's owner, the burgers were served.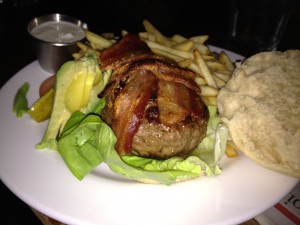 The Taste: The first thing Brad noticed about his avocado bacon burger was that the bacon was crisp and delicious.  The avocado added an interesting texture but, as is often the case with avocado, not a terribly immense amount of taste. The patty, while quite flavorful, was sadly a little dry and definitely overcooked (Brad ordered his burger medium rare, as always). He left satisfied with his $8 burger, but wishing it had come cooked the way he'd ordered it.
Nolan enjoyed his cheeseburger a little more than Brad.  His burger was also overcooked, but he didn't notice until deeper into his meal because of the way the tasty cheese accentuated his meal.  He had a lot of good to say about his waffle fries, too.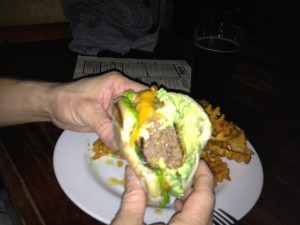 The Verdict: Habitat is a great place to go for a good drink, a good deal on food, and a friendly atmosphere.  The Burgermeisters were assured by Kate, who is a regular at the place, that the burgers are typically not overcooked. Be warned that it's a possibility, but also realize that for $8 it's a reasonably high quality hamburger.
Habitat is located at 988 Manhattan Ave between Huron Street and India Street.