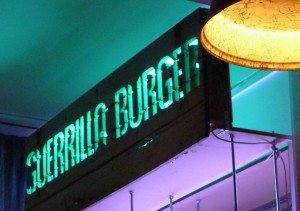 Burgers Ordered: The Classic Royale, the Royale with Cheese, and the Spanish
The Experience: Guerrilla Burger is Bristol's new slider restaurant. Having previously perfecting their skills with a number of pop-up restaurants, Guerrilla Burger decided to take up a permanent residence in Bristol city centre. Styled on London and NYC burger joints, the decor had the feel of a trendy warehouse pop-up restaurant; all corrugated metal and neon lights. The atmosphere on the evening our Bristol Burgermeister visited was buzzing with some chilled beats providing the soundtrack.
The Taste: The Burgermeister went for the Classic Royale (plain), a Royale with Cheese and the Spanish. The sliders came served simply in little cardboard trays with a wooden skewer holding each together. The brioche buns were perfect, soft and sweet, and with a lovely glaze. The Classic Royale came served simply with some relish, tomato, lettuce, and mayo on a bed of gherkins. The patty itself was made from a coarse ground mince and was cooked medium, just right. The meat was moist and full of flavour, the seasoning was also just right.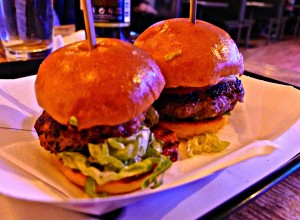 The Burgermeister's favourite slider was the Spanish. Chorizo was mixed in with the beef in the patty and was topped by some Manchengo cheese and Quince jelly, along with the same toppings as the Classic Royale. The combination of the Manchengo cheese and Quince jelly was a real winner. The jelly itself had been rolled into sheets so it could be cut just like a slice of cheese, a nice touch which shows the thought that has gone into all the ingredients. The Spanish was so good that the Burgermeister even ordered an extra one to finish!
The Verdict: The sliders were well cooked with a juicy patty and the flavours all worked well together without overpowering the taste of the beef. A great addition to Bristol's restaurant scene.
You can see more of Fabian Yeo's foodie adventures right here. Follow Fabian on Twitter here.
Guerrilla Burger is located at 48-52 Baldwin Street in Bristol, England.