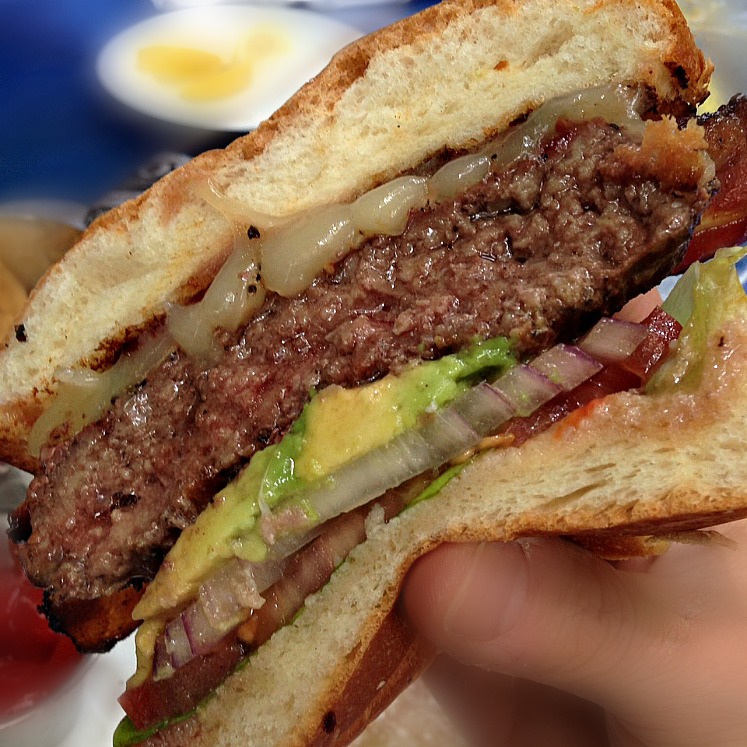 The Experience: While driving around downtown Houston over the weekend, we came upon The Grove restaurant. The Grove offers valet parking which is ideal during the heat of the summer. This is a trendy, casual restaurant with a clean, modern atmosphere. The ultra-cool air conditioned temperature was a pleasant welcome after being out in the hot humid day. There is a patio for dining and a roof top bar ideal for people watching & evening cocktails overlooking the city. We opted to sit out on the patio. Large trees provided just enough shade to ensure our lunch would be enjoyable.
Burger Ordered: The Grove Hand Ground Hamburger
The Taste: After contemplating the "Modern Texas" fare on the menu, I decided on "The Grove Hand Ground Hamburger"-medium rare ($15.00). The presentation was inviting. Upon its arrival, I instantly grabbed a crispy, hot, salty fry & stated "we're off to a great start"! My burger was perfectly cooked. It was layered with a tender Boston lettuce leaf, sliced green chilies, ripe avocado, crispy hot bacon & melted provolone cheese that draped itself over the juicy meat. This combination of flavors was pleasing to my palette. The chilies added a hint of heat while not overpowering the beef. The creamy texture of the avocado paired nicely with the bacon & warmth from the chilies. The beef itself had the texture of freshly ground course meat and was appropriately seasoned. The downfall of this burger was the bun! It was deserving of far better than the dry, lack luster bun my burger was housed in.
The Verdict: At the helm of The Grove is the notable Executive Chef/Owner Robert Del Grande. Along with Chef de Cuisine Ryan Williams they have created some unique tasty dishes that are worth trying. While The Grove is not known for its burger, this was a good, solid burger that was enjoyed on a hot summer day while out & about in Houston.
The Grove is located at 1611 Lamar Street in Houston, Texas.