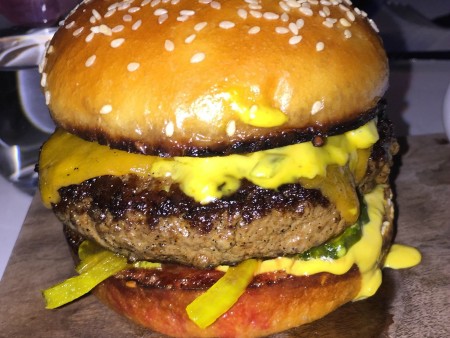 This week, I tried the new and highly regarded GreenRiver restaurant. It is the latest Union Square Hospitality Group restaurant in Chicago, managed and operated by Danny Meyer.
It is a little bit of a shock that GreenRiver is in the middle of Northwestern Hospital, but when you think about, it's somewhat genius. There is a built-in steady flow of customers, not to mention the restaurant would draw people in any way. The restaurant is very clean, sleek and modern with a very comfortable feel to it. You feel as if you are going to a really nice dinner but with the ability to dress casual while you are there.
The drink and food menu is clearly well thought out and detail-oriented. There are 32 cocktails, four for each of the eight spirits on the menu. The food is mostly contemporary while still classic, like the cheeseburger.
The Burger: "Cheeseburger" 
The Taste: This particular cheeseburger was made of Slagel Family Farm beef, cheddar cheese, pickles, with a house sauce served on a sesame bun. It has been a while since I have had a gourmet burger on a sesame bun. At first thought, it reminded me of a Burger King bun, but that completely changed when I tasted the rest of the burger. After finishing my first bite, I thought to myself, "wow, there is a party in my mouth and everyone is invited." The house sauce delivered a very delicate spice that was pronounced enough to keep up with the strong cheddar cheese. The burger was simple but every part of it was done well.
The Cheeseburger was accompanied with fries that will melt your heart. I am not normally a fry guy, but I was that night. The lightly dusted cheese fries were some of the best I have ever had. Each time the waiter came by to take them away, I told him to leave them. I just kept nibbling and nibbling and the next thing I knew they were gone. I can't tell you the last time I finished a side of fries; it honestly has been years. Kudos to you, Danny and your staff, I have become addicted to your fries.
The Verdict:  There is a reason why Danny Meyer and Union Square Hospitality Group have been so successful in NYC; they know how to do things right. Every part of GreenRiver has been meticulously thought out. The detail of the food is no different. There is reason behind the spice is on the burger, and behind why the cheese is dusted onto the fries. Until I understand why and how that is done, I will continue to go to GreenRiver and eat everything I possibly can. Bravo!
GreenRiver is located at 259 East Erie Street in Chicago, Illinois.
Sign up for Burger Weekly email updates!