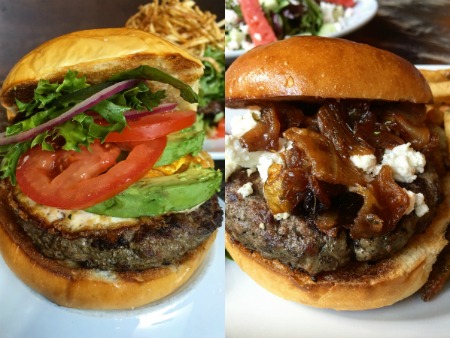 Gordon Bennett is a very cool and very relaxed bar in the Williamsburg neighborhood of Brooklyn. The moment you walk in here you feel relaxed and at ease. The entire place has a great interior that isn't overwhelmingly big, which lends to its very down to earth vibe. This is a bar where you meet awesome people while you're eating awesome food. It has a very welcoming vibe to it and the staff is great as well.
Burger Ordered: The Wicked Bennett Burger 
The Taste: There's nothing more I love when it comes to burgers than having an array of options to put on top of it. At Gordon Bennett you can slap anything on a burger from fresh mozzarella, goat cheese, hummus to even peanut butter. And while all those options are awesome I had to keep it rather simple but also pretty epic: I added a fried egg and avocados to mine and it was honestly one of the most delicious burgers I've had in a very long time. The patty was juicy and cooked pretty much to perfection, the bun was soft and tasty and the avocados and fried egg were seriously on point. This combo was absolutely delicious. Though with the options they offer you here, and how well they cook their burger patties, it's hard to make a bad burger for yourself.
As for the second burger combination, there's really only one thing to say about putting caramelized onions and goat cheese on your burger: it's a PERFECT combination. The flavors in this burger were out of this world! The juiciness of the patty itself mixed in with the insanely awesome taste of the onions and the freshness of the goat cheese were truly an impeccable mix. While it's fun to play around with all of the burger topping options they offer you here, if you wanted to guarantee yourself a truly outstanding burger go with this combo.
The Verdict: Gordon Bennett in Brooklyn offers great food (they have way, way more to offer than just burgers) and a great atmosphere in a great neighborhood. Highly recommended.
Gordon Bennett is located at 109 South 6th Street in Brooklyn, New York.
Sign up for Burger Weekly email updates!