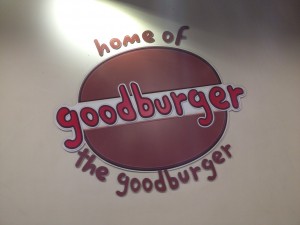 Can I Take Your Order?
Burgers Ordered: Brad – Double Goodburger with the Works; Matt – Double Goodburger with the Works, Bacon & Cheese
The Experience: Brad's favorite guilty pleasure movie had always been Nickelodeon's All That spinoff, Goodburger.  He liked it so much that the guilt eventually melted away.  So it was with relatively high expectations that the Burgermeisters went to the real life Goodburger as the next installment of their fast casual series.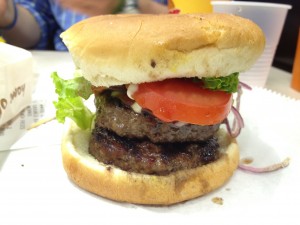 Plenty of grease, and not much else.
While the counter jockeys at Goodburger were friendly, attentive, helpful, and interesting, they were no Ed and the Gang.  The Burgermeisters didn't expect that they would be… but they did expect a good hamburger.  Sadly, that's not what they received.  The Burgermeisters took Goodburgers offerings from the counter, sat at their table and proceded to be disappointed.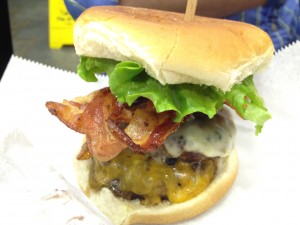 Cheese and bacon won't save this burger.
The Taste: Brad figured that the Double Goodburger, two four-ounce patties stacked and topped with lettuce, tomato, onions, ketchup and mayo, would be a satisfying meal if nothing else.  He found it to be more of a chore.  The grease made it slimy in his hands and the vertically inclined structure of the burger made it difficult to keep in his grasp.
Matt didn't comment much on his burger at all.  He mostly communicated his disappointment through disappointed facial expressions and grunts. Check them out (and see a few reasons why the Goodburger movie is so loved) in this video!
The Burgermeisters were joined by friends Rebecca and Ashley.  They ordered a mushroom burger and crab burger, respectively, which qualify them for Burger Weekly's Finger of Shame.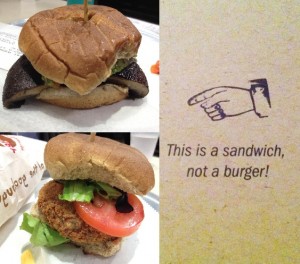 Why does the Mushroom Burger remind us of a beetle?
But we're not totally upset with Ashley for wimping out and going beef-free on her first Burger Adventure for two reasons.  First, she made an effort to keep the Nickelodeon theme alive by ordering a Crabby Patty. She also posed for the following photo op in Europe, giving Burger Weekly a look at the INTENSE BATTLE of the Burgers.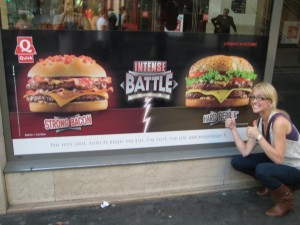 We're with Strong Bacon.
The Verdict: Goodburgers litter the city of New York.  There are plenty of locations and the men and women who stand behind their counters do good work.  But the quality of their product simply leaves too much to be desired.  Of New York City's renowned fast casual burger joints, Goodburger is pretty low on the list.
Goodburger is located at 977 8th Avenue between 57th & 58th Streets, and at five other locations in Manhattan.