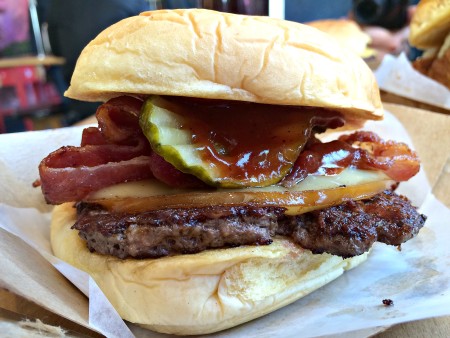 I've been a massive fan of Genuine Roadside for a long time. When I lived in Hell's Kitchen, I went there for burgers a lot. Last year, the team behind Roadside opened up Genuine Superette, the same burger and chicken sandwich concept in Little Italy. I love when a burger joint that I enjoy opens up a new location, because that means I can rationalize eating it again because it needs to be covered for Burger Weekly. I may have gotten a little carried away at Superette, as I ordered a burger and a chicken sandwich, but such is life when you're me.
Burger Ordered: The Spicy Smokehouse Burger
The Taste: This sucker was every bit as good as I remembered it being. The smoked gouda, pickle and barbecue sauce could not be a better blend of flavors. The crispy bacon perfectly offset the soft, potato roll. And let's not forget about the delicious Schweid & Sons beef patty. I could have pounded two or three of these burger if not for self control (and the fact that I was getting full after also eating the chicken sandwich). I skipped the fries on this occasion, which was probably necessary to not leave feeling completely ashamed of myself.
The Verdict: Forget for a second that the Buttermilk Battered Chicken Sandwich here is one of the best in the city (or don't, I'm not going to try to tell you to ignore good food), because the burgers at Genuine are the real deal, roadside-style, burger-bliss inducing magic.
Genuine Superette is located at 191 Grand Street in Manhattan, New York.
Sign up for Burger Weekly email updates!