Don't Sleep on Pimento Cheese or Authentic Sliders |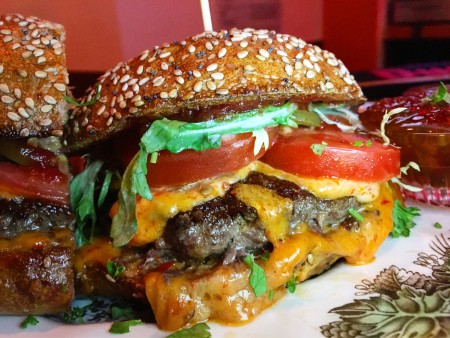 If you've ever been to Beer Culture in Hell's Kitchen, you know that their selection of suds is off the chain. The same is true at their new Upper West Side outpost, Gebhard's Beer Culture, named for owner and all around good guy Matt Gebhard. But Gebhard's is also doing something that the original location isn't; elevating the burger game to new levels. 
Burgers Ordered: The B|C Burger and the Off White Castles
The Taste: The B|C Burger is made from the same Schweid & Sons beef that the mini-burgers in Hell's Kitchen are made from. Greens, tomato, and pimento cheese also top this burger on a sesame seed bun. The way the cheese and greens combine on this burger make for a crunchy, umami topping for the amazing patty.
And while this pimento bomb is great, you can't sleep on the authentic sliders that Gebhard's serves. You won't find them on the menu, as they're only available in large quantity if you order ahead. These elevated White Castle-style sliders are fantastic. Two will fill you up, but adventurous eaters could handle more. American cheese, potato buns, diced white onions, and a bit of ketchup round them out. A slider party with Off White Castles is a definite win.
The Verdict: Be it large format are small in both burgers and beer, Gebhard's is having more fun with food and drink than most.
Gebhard's Beer Culture is located at 228 West 72nd Street in Manhattan, New York.
Sign up for Burger Weekly email updates!