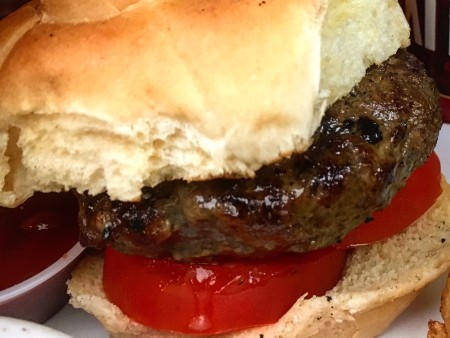 For most in my social circle, the summer means getting out of New York City as often as possible. I kicked off my summer with a trip up to the quaint little town of Rosendale, New York. Between Rosendale and the neighboring towns, I fond quite a few delicious things to eat, but aside from the cheese curds at the Gilded Otter in New Paltz, I think the main dish Burger Weekly's audience is interested in is the burger at Garden House 12472.Burger Ordered: The Beef Burger
The Taste: I love my friends. They specifically chose this place out of the few in the immediate driving area because there was a burger on the menu. While I was tempted to go for a wood-fired pizza from Garden House's beautiful oven, I am quite satisfied with my decision to order the burger. Garden House's Mediterranean charm was evident throughout. The beef was seasoned with hints of garlic and rosemary, and while not the most beautiful to look at, it absolutely melted in my mouth with each bite.
The Verdict: Your burger choices in Rosendale aren't particularly vast, but they really don't need to be with a burger like this one available.
Garden House 12472 is located at 4 Hardenburgh Lane in Rosendale, New York.
Sign up for Burger Weekly email updates!