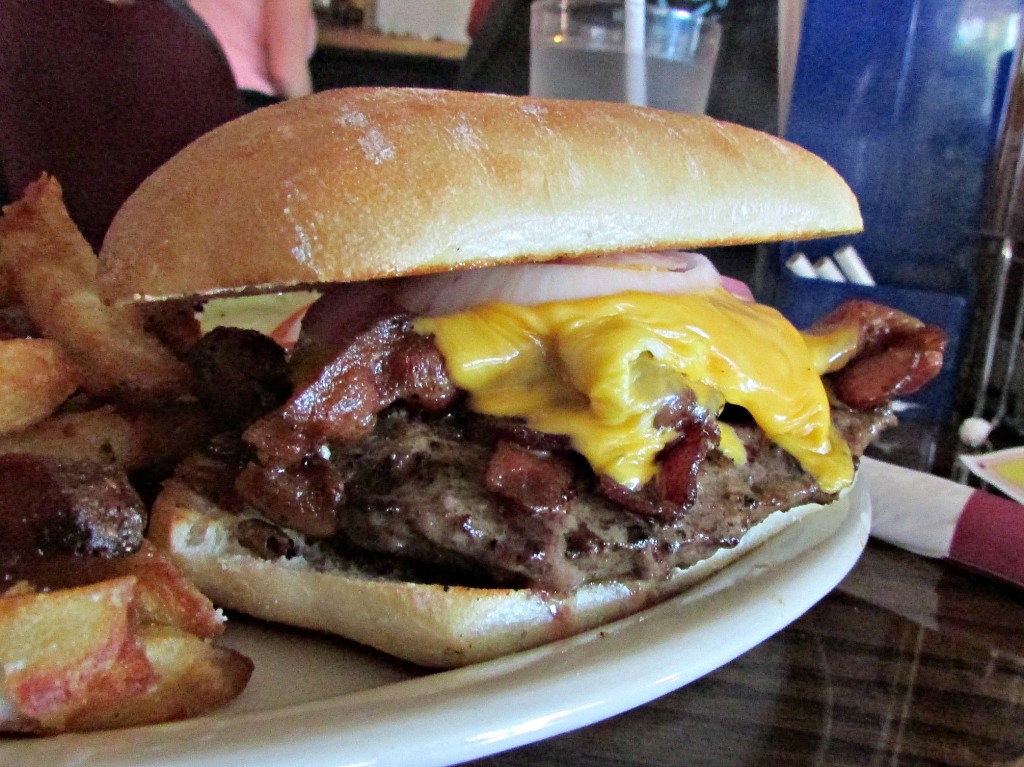 The Experience: Last week I was tipped off to a great burger in Michigan because it won a Detroit burger contest. But I was in Michigan for a few days and needed to rack up another Burger Adventure before I left. Also, I wanted to meet Burgermeister Jake and he was coming from way Up North. After doing some research, our reunion was decided to take place at Gabby's in Saginaw, a sort-of half way point between Traverse City and Detroit that reportedly had a stellar breakfast burger.
Jake arrived with his two-year-old daughter, who wasted no time in running roughshod over the whole restaurant. Gabby's is the kind of two-room tavern in which everyone looks at the person entering when the door opens. There are exactly zero frills here, save for the Halloween decorations painted on the windows. There was a decent-sized crowd for lunch, and only one waiter was on duty. He warned us that our burgers could take up to 45 minutes to arrive, but it didn't take nearly that long.
Burger Ordered: The Bacon, Egg & Cheeseburger and the Western Burger
The Taste: When I lifted my Bacon, Egg & Cheeseburger, I saw a downpour of grease and egg yolk unlike anything I'd ever seen before. Jake couldn't believe that after all the burgers I'd eaten that we were witnessing a true Burger Weekly first, but it was true. In fact, if it wasn't for the egg yolk, I'd be petrified at the amount of liquid slowly but consistently falling to my plate. The patty was a bit over-seasoned, making my first bite less pleasant than I'd like after driving nearly two hours for a burger. However, each subsequent bite, dunked in plated egg yolk, was more and more enjoyable. In the end, this seemingly oversized burger turned out to be just the right size to manage my hunger without beating up my stomach.
Jake had a similar experience. After taking the first bite of his Western Burger, topped with bacon and barbecue sauce, Jake said that it was unlikely that this would even crack his top ten Michigan burgers list. But as the meal went on, the enjoyment spreading across his face was evident. In the end, the two of us had a hard time not overstuffing our Second Stomachs with fries, because they were damn tasty as well.
The Verdict: I don't think Gabby's is worth the 2-3 hour pilgrimage, but for residents of Mid-Michigan or friends on opposite ends of the state looking for a neutral meeting ground, it certainly does the trick. Just leave your two-year-olds at home.
Gabby's Pub & Grill is located at 3002 South Graham Road in Saginaw, Michigan.