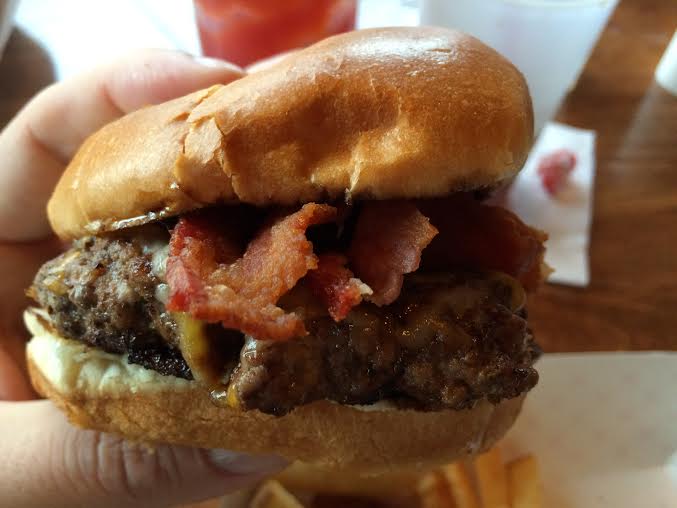 The Experience: I know I've mentioned it before, but when you live in a town as small as I do, it doesn't take too much to get us in Boyne City fired up. When I heard a new restaurant was going in on W. Main Street where there used to be a restaurant so bad I can't even remember the name, I was suitably stoked. After a night on the town with my Littlest Burgermeister Vivienne, we needed some eats and Friggy's SoBo Pub quickly became our destination.
The first thing I noticed upon walking in was that Friggy's did a complete remodel of the dining area, which is always a plus. There is little as annoying as going to a "new" restaurant that looks just like the old failed establishment. Friggy's presents a simple bar along with a spacious dining room, and even added a pool table and a lounge area with some couches and comfortable chairs. It's a pretty inviting place, despite the only real wall ornament being a giant stuffed buffalo head. Also, the men's room is pretty nifty, with a urinal carved out of a metal ice bucket, and a keg tap controlling the water flow in the sink.
Burger Ordered: Western Burger
The Taste: Friggy's has five different burger varieties on their menu, and I went with the Western, as I tend to do. The burgers are 1/3 lb. custom blend steak burger served with lettuce and onion, and it's $2 to upgrade from chips to fries – which of course I did. This Western Burger is much like other Western Burgers, with bacon, barbecue sauce, and mixed cheese on top. Everything about this burger is good. The fries are good too. But they weren't unique. With the décor impressing me so much I had high hopes, and maybe that's my own fault. Don't get me wrong – I enjoyed this burger and I will go back there again, but I was hoping for something that stood out from the pack a little more.
The Verdict: Friggy's has a cool atmosphere and it's still in its infancy, so there's definitely room to grow. They're off to a pretty good start and I will definitely recommend it to friends.
Friggy's SoBo Pub is located at 5 West Main Street in Boyne City, Michigan.
Sign up for Burger Weekly email updates!