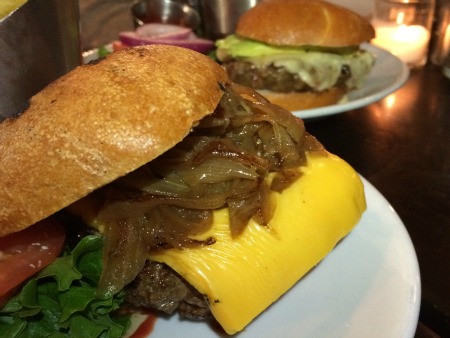 Food halls are going from novelty to norm in the New York City dining scene. From Gotham West Market and Eataly to Urbanspace Vanderbilt, Berg'n, and the brand new Pennsy, they're everywhere and most of them have a burger offering. Chelsea Market is the one that started them all, and Friedman's Lunch is their burger centerpiece. With four locations in New York City, Friedman's is similar in its relationship to Chelsea Market as other burger joints are to their food halls, in that they offer a burger available elsewhere, but within a structure that allows you to easily sample other foods as well.

Burger Ordered: Friedman's Burger
The Taste: My burger buddies and I ordered two different Friedman's Burgers. One was topped with American cheese and caramelized onions, while the other was topped with Pepper Jack cheese and avocado. It's astounding how the toppings drastically differentiated the flavor profiles of the two burgers. The American cheese and onion burger had your traditional greasy spoon flavor, and weighed heavy with each bite, while the avocado Jack burger somehow felt light and more airy. Both were delightfully anchored by the delicious Schweid & Sons beef patty. The fries were also addictive, dipped in an avocado aioli.
The Verdict: Friedman's Lunch has a build-your-own burger program that is limited only by your imagination, and allows for multiple burger experiences in the same evening. Their chicken wings aren't anything to sneeze at, either.
Friedman's Lunch is located in Chelsea Market at 75 9th Avenue in Manhattan, New York.
Sign up for Burger Weekly email updates!