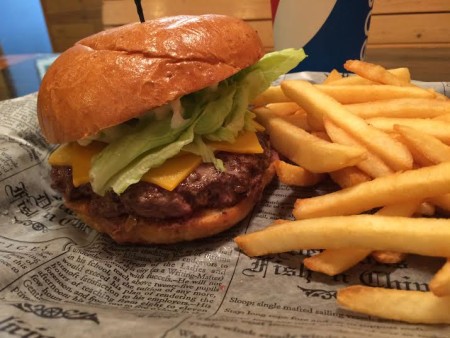 I live in a small town, and thus I'm always on the lookout for a place serving burgers that I haven't tried yet. Freshwater Grill is on the road between two of the resorts that I work for, so I've passed it numerous times for various work related functions. They tout their seafood and daily fresh fish, which I would also love to try, but I just knew there had to be a burger in there, so I decided to investigate.
Burger Ordered: Cheese Burger
The Taste: Freshwater Grill burgers are 1/3 lb. of local Tannery Creek Market ground beef served on a bun from local Crooked Tree Breadworks. I added American cheese, lettuce, mayo, and ketchup to mine. And yes, I know the head burgermeister's feelings on burgers with ketchup. Even though this is a quick-serve establishment, they asked how I wanted the burger done, and they cooked it a perfect medium rare. They definitely know what they're doing in that kitchen, helped in no small part by the quality of the local ingredients.
The Verdict: Freshwater Grill can somewhat be classified as a pleasant surprise. It's tucked in the middle of the Clock Tower plaza amongst some other outlets, so it doesn't really stand out on the outside. But on the inside they're making a dynamite burger that I highly recommend.
Freshwater Grill is located at 2264 Harbor-Petoskey Road Unit 3 in Petoskey, Michigan.
Sign up for Burger Weekly email updates!