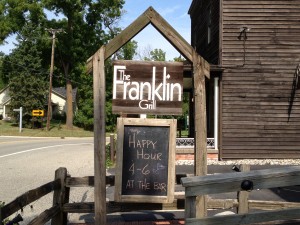 Ring in the Fall
Burgers Ordered: Angus Hamburger
The Experience: Burgermeister Brad was back in Michigan for a wedding, and true to his convictions he made it a point to visit another Michigan burger joint while he was there.  This time around he left the venue choice to his childhood friend Ben.  Ben picked the Franklin Grill, across the street from the ever popular Franklin Cider Mill.
Brad had never been there before.  He loved the decor, featuring wooden walls, tables and chairs, a fully stocked bar and generous lighting that poured in from the historic building's windows.  Restaurant owner Ruth Kochensparger was on hand to greet every customer with a smile and genuine concern for their dining experience.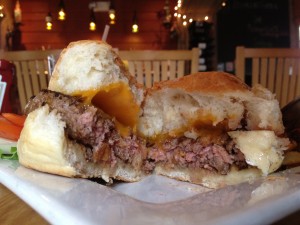 The Taste: Brad was immediately taken by the expertly melted cheddar cheese that stuck to and oozed from both the bun and patty.  The patty didn't drip with grease but wasn't dry in any way.  Cooked medium rare, it had a flavor that was understated but very tasty.  The challah bun complimented the burger well, and the accompanying fries were delicious when dipped in ranch dressing (ranch dressing being one thing that New York restaurants tend to do poorly).
The Verdict: Franklin Grill is a fun place to eat in the historic, preserved Franklin Village.  After the meal Brad and Ben took a short walk to the Franklin Cider mill and had a blast of a time while eating greasy donuts and drinking apple cider (photo gallery below).
[flagallery gid=4 name=Gallery]
Franklin Grill is located at 32750 Franklin Road in Franklin, Michigan.