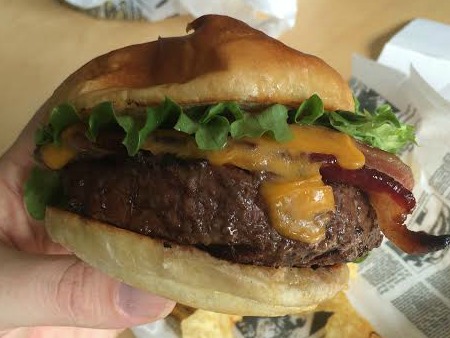 The Experience: Forty Acres Tavern sits at Boyne Mountain Resort on the spot formerly occupied by Pierson's Grille and Spirits, and it's operated by new management, so a new burger review is in order. In 1947, Boyne Mountain founder Everett Kircher and his friends had been skiing at the Otsego Ski Club's 250 vertical-foot slope, and they wanted something bigger. When Kircher found the land that Boyne Mountain now sits on, he saw a 1,150-foot rise with over 500 feet of skiable vertical. He thought he could make something out of this land, which at the time was owned by Senator William Pearson. Charmed by Kircher and his friends, Pearson stated that "Anyone damn-fool enough to want to build a ski hill, well…I'll give you the property." Kircher paid $1 for the initial 40 acres of Boyne Mountain, and the new tavern proudly bears that name.
Burger Ordered: Tavern Burger
The Taste: The Tavern Burger is eight ounces of certified angus beef, topped with Cherrywood smoked bacon, aged cheddar, lettuce, tomato, and red onion on a brioche bun. The Pierson's burger was good, but the new tavern burger eclipses it. The brioche bun is the right choice here, and the Angus beef was done a perfect medium rare. The bacon and cheddar were on point, and everything held up really well, even without a lift. Also, this burger doesn't charge extra for every piece of accoutrement like its predecessor did. The Tavern Burger at Forty Acres represents the best of burgers – simplicity and deliciousness.
The Verdict: Forty Acres Tavern is just down the hill from my office, and that's a dangerous place to be. This is a terrific burger and a fun atmosphere. I will certainly return.
Forty Acres Tavern is located at 1 Boyne Mountain Road in Boyne Falls, Michigan.
Sign up for Burger Weekly email updates!