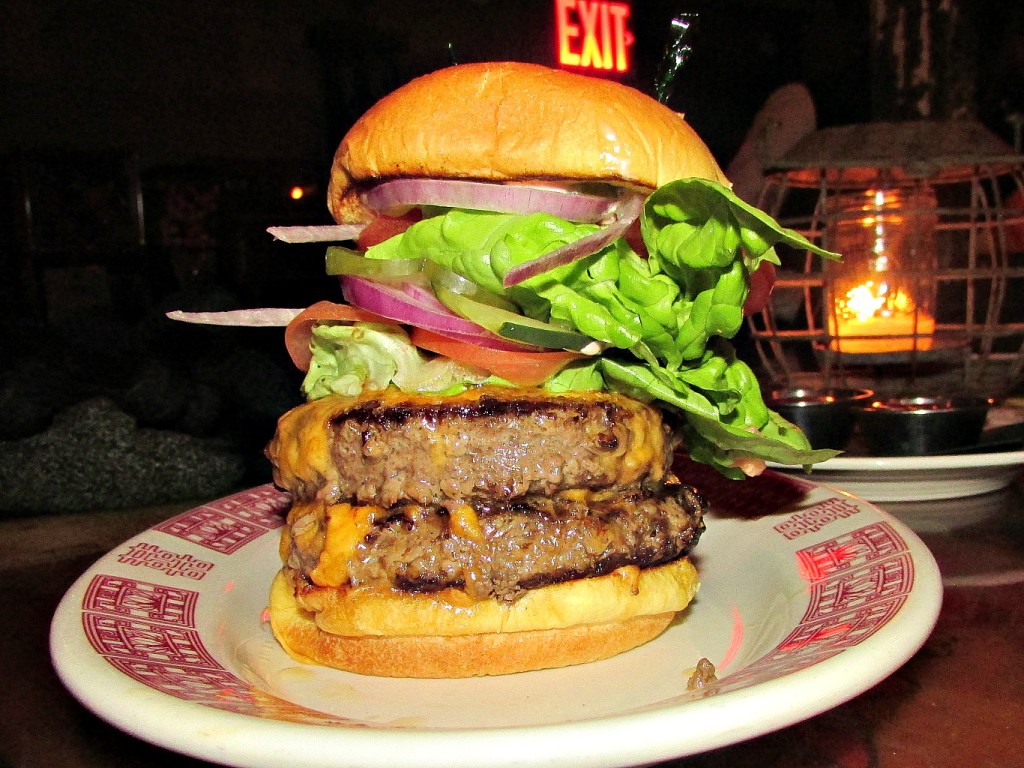 The Experience: Everywhere you look in New York City, a new restaurant is putting a burger on their menu. This is especially true of upscale restaurants, who are attempting to attract a wider audience by adding this "food of the people" to their roster of dishes. What I miss however, is chefs just having fun with their hamburgers. Last year, the BFB pop-up was a great example of a restaurant at which the love of the hamburger showed in the food, and it was obvious that the burger wasn't just there as a marketing tool.
That spirit is being kept alive at Forrest Point in Bushwick, which opened last August. Chef David Rotter is clearly having fun with hamburgers there. While a typical LTO cheeseburger resides inauspiciously on his otherwise bombastic brunch menu, four much more fun and creative off-menu burgers are available to order. Here's a rundown.
Burgers Ordered: The Jefferson, The Old MacDonald, The King Louis, and The Duplex.
The Taste: All of Forrest Point's burgers are made with a custom Pat LaFrieda blend rested on a Martin's potato roll bum. The Jefferson blew minds. Topped with jalapeño, house sauce, waffle fries, and LTO, this burger had such a nice kick to it. The Old MacDonald was a true ode to farm life. It came topped with a fried egg, pulled pork, LTO, bacon, onions, an cheddar cheese. There was so much flavor packed into this burger. It also got bonus points for the egg being runny without making a complete mess. The Duplex (pictured above) was true to its name. With two 6 oz. patties, double cheddar cheese, and double LTO, this burger was the one in which the taste of the delicious beef came through the most. The King Louis, a no choke barbecue bacon cheeseburger, will satisfy your need for sweet barbecue sauce, if such a need exists.
Forrest Point also makes great cocktails, and as of this writing a pair of delicious milk punches (more are planned to be added). I got a hot tip that the cast iron s'mores were also a must-try, and they more than measured up to my expectations.
The Verdict: This little corner of Brooklyn is becoming something of a burger-lover's dream. The burgers at Forrest Point are only $7, so you're really not going to get a better deal for this level of quality. If I were you I'd get over there and try these burgers in the winter, because with a huge patio space, Forrest Point is going to be a mad house when the weather gets warm.
Forrest Point is located at 970 Flushing Avenue in Brooklyn, New York.