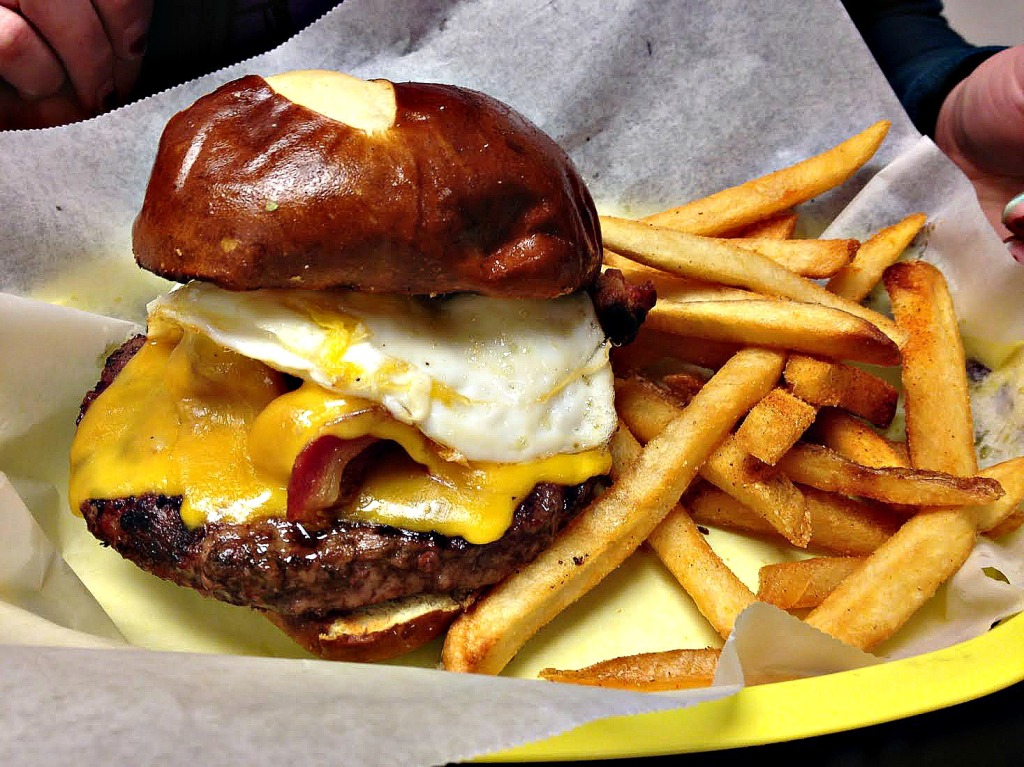 The Experience: While Flub A Dub Chub's seems to be more famous for its hot dogs, we started our night out at Monsignor Murphy's by grabbing burgers from this little family joint directly underneath the bar. The restaurant is decorated with customer-drawn hot dog art, but we are not Hot Dog Meisters! And thus, we ordered three different burgers.
Burgers Ordered: The Roe, The Grandma K, and Greg's Hangover
The Taste: Each burger is comprised of a half pound of black angus beef on a delicious pretzel bun. All burgers come with a side of fries which are seasoned to perfection, though there was a modest amount and we all wished there had been more. Each Burgermeister ordered their burger medium rare, and each was pleased to find the meat a perfect shade of pinkish red. The buns held up well, but The Roe and The Grandma K were so generously packed with toppings that they proved challenging to eat. The cheese on The Roe got a little out of control, melting rapidly and falling all over the fries, but that just made for even more delicious fries. Additionally, the avocado was extremely fresh, but kept falling off throughout the dining experience. Thinner, flatter slices or an avocado spread would have made for easier eating. The fried egg on Greg's Hangover was overdone and not as runny as you would expect from a hangover burger. However, because it was a basic burger with few toppings, it was much easier to eat than the other two. The goat cheese that oozed off The Grandma K made for perfect dipping cheese for the fries.
The Verdict: Three of the four of us could not finish our burgers, but not for lack of trying. Flub A Dub Chub's is the perfect spot for a reasonably cheap, generously sized burger. It ain't fancy, and that is exactly what we wanted. Thumbs way up!
Flub A Dub Chub's is located at 3021 North Broadway in Chicago, Illinois.