Burgers Ordered: Matt & Andrea – Refined Wagyu Burger; Brad – Sweet Brisket Burger; Mary – Exotic Lamb Burger; Toby – Hearty Short Rib Burger.
The Experience: A couple of weeks ago, Burgermeisters Brad and Matt went to Bill's Bar & Burger. What they didn't tell you in that review is that they were supposed to go with Guest Burgermeister Toby a week earlier, but ended up skipping it at the last minute and forgot to tell Toby.  Needless to say, they needed to make it up to him, so they invited him to Flip.  Luckily for the Burgermeisters, Flip delivered and the friendship was saved.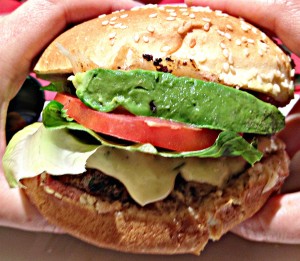 Flip is actually one of two burger joints in Bloomingdales, along with David Burke at Bloomingdales (review forthcoming).  Because the Burgermeisters are not terribly familiar with Bloomingdales it took them a while to find Flip in the Labyrinthine department store.  Once they arrived, were greeted and seated by a "designated Flipster," and made their very difficult burger selections from Flip's massive burger menu, there was nothing left to do but feast.
The Taste: Andrea and Matt both ordered the Wagyu Burger, but their experiences differed greatly. Matt, who got his with a hot cherry pepper & asiago cheese roll, American cheese and hickory smoked bacon, was disappointed in the lack of heft in the patty. He enjoyed the bacon, cheese and bun, but felt the meat's flavor was lost amongst the toppings.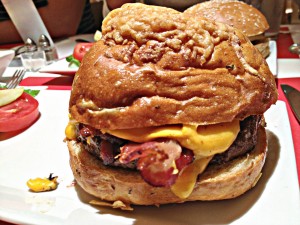 Andrea got her burger on a classic seeded bun, with Monterey Jack cheese, avocado, and garlic aioli. She waxed orgasmic about her burger, likening it to other recreational activities that bring her joy. She had been warned by the Burgermeisters that a classic bun would likely not hold up to the rest of her toppings and patty. This proved true, but was the only setback to an otherwise perfect burger experience.  The garlic aioli was especially delicious, bringing the burger to a special, memorable place.
Brad ordered his Brisket Burger on an herb brioche bun with Vermont cheddar cheese. The oozing cheese and sweet bun were the perfect compliments for this brand of beef.  The burger dripped lightly with grease and was devoured in mere minutes. It was a true Slow-Down Burger.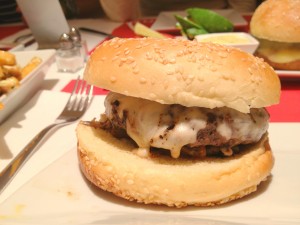 Toby, who ordered his Rib Eye Burger on a classic bun, with Swiss cheese, and a fried egg, was the least inspired Burgermeister.  He liked the rib eye patty quite a bit, but was disappointed in his bun and wished the egg was runnier.  Dry white bread buns and overcooked eggs are fairly typical Burger Adventure setbacks, but Toby was a first-timer and had to learn this the hard way.
Mary, who ordered her lamb burger with a tandoori onion ring on ciabatta roll, found her meal to be absolutely excellent. She warned that it had quite a kick to it, so if you order this burger you had better enjoy spicy things.  She said that because the spices mixed within the lamb meat were sublte, it did not leave a heavy after taste like other lamb burgers she's had. The ciabatta bread was delicious, light and chewy. The onion ring complimented the lamb meat very well. The server recommended medium for the temperature in order to avoid drying it out, which was good because Mary often gets her burgers overcooked.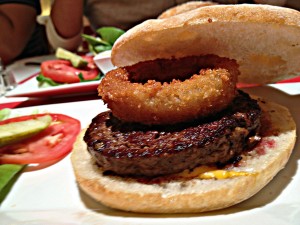 The table shared steak fries and dipped them with abandon in garlic aioli.  The result was pure pleasure. The steak fries are an absolute must at Flip.
The Verdict: Mixed reviews elsewhere are flawed, as the Burgermiesters' experience at Flip was a resounding success.  Make your way through the Bloomingdales maze and eat at Flip as soon as possible.
Flip is located inside Bloomingdales at 1000 3rd Avenue between 59th Street and 60th Street.