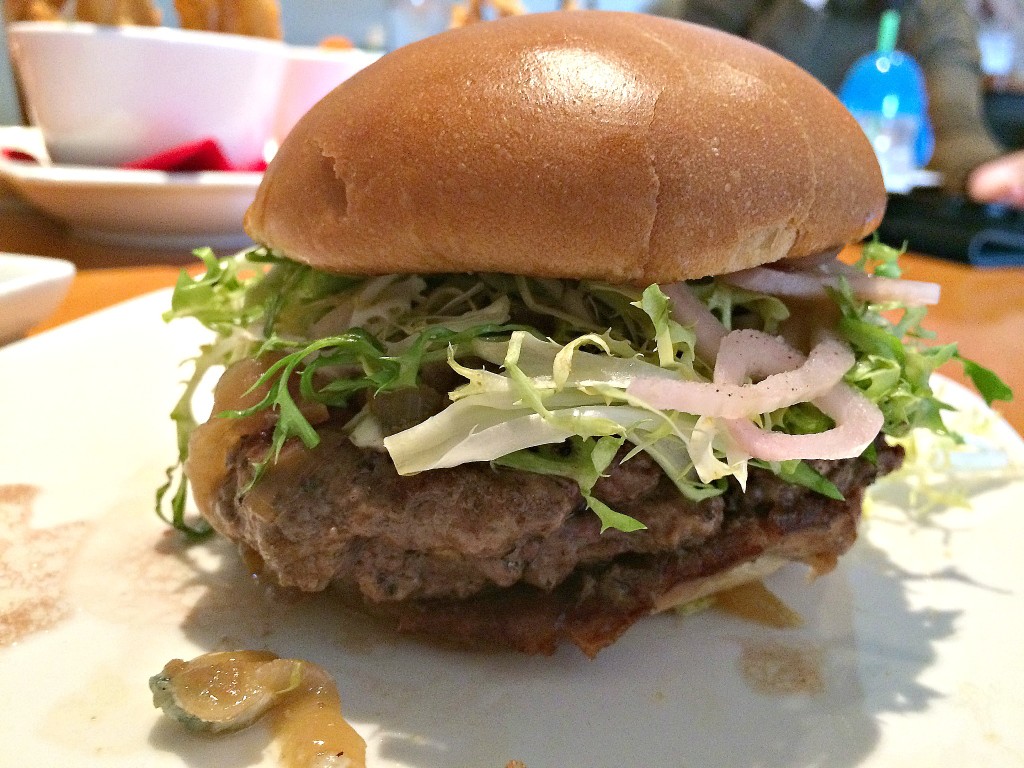 The Experience: Whenever I'm going to be doing some traveling, I look to make a Burger Adventure a part of my travels. Upon doing some online research and a ringing endorsement from a family friend, I decided to make FLiP my destination for burger devouring.
As the name implies, this place is pretty high end in both appearance and price, with pristine white tables and chairs with red napkins, menus and carpeting. The staff was friendly and accommodating.
Burger Ordered: Butcher's Cut
The Taste: I started the meal off with some fried bread and butter pickles that were accompanied by a buttermilk ranch dipping sauce that were top notch. As FLiP is also known for its shakes, I had to order one. I went with the Strawberry Shortcake shake which featured little bits of cake and was absolutely delightful.
They also offer a plethora of sides, and since I couldn't pick just one, I went with the sampler which allowed me to pick three. My choices turned out to be excellent; beef fat French fries, vodka battered onion rings and sweet potato tots. All of which them delicious, particularly the fries.
I know, I know, what about the burger? The Butcher's Cut is Angus beef, Emmi Roth buttermilk bleu cheese, caramelized onions, soy truffle vinaigrette, frisée, pickled shallots and red wine jam. That long list of toppings is the problem I had with this burger. The bun was tasty and really held up and the patty itself was great, but it got really lost underneath everything else. The frisée was just way too much, and it really overpowered the primary elements of the burger. I had a really hard time detecting any of the other toppings underneath the heap of greens.
The Verdict: If you like your burger experiences on the high end side and dig a good milkshake and bang up sides, this is your joint. If you're into a simpler burger experience, FLiP might be a little too rich for your blood.
FLiP Burger Boutique is located at 1587 Howell Mill Road Northwest in Atlanta, Georgia.
Sign up for Burger Weekly email updates!