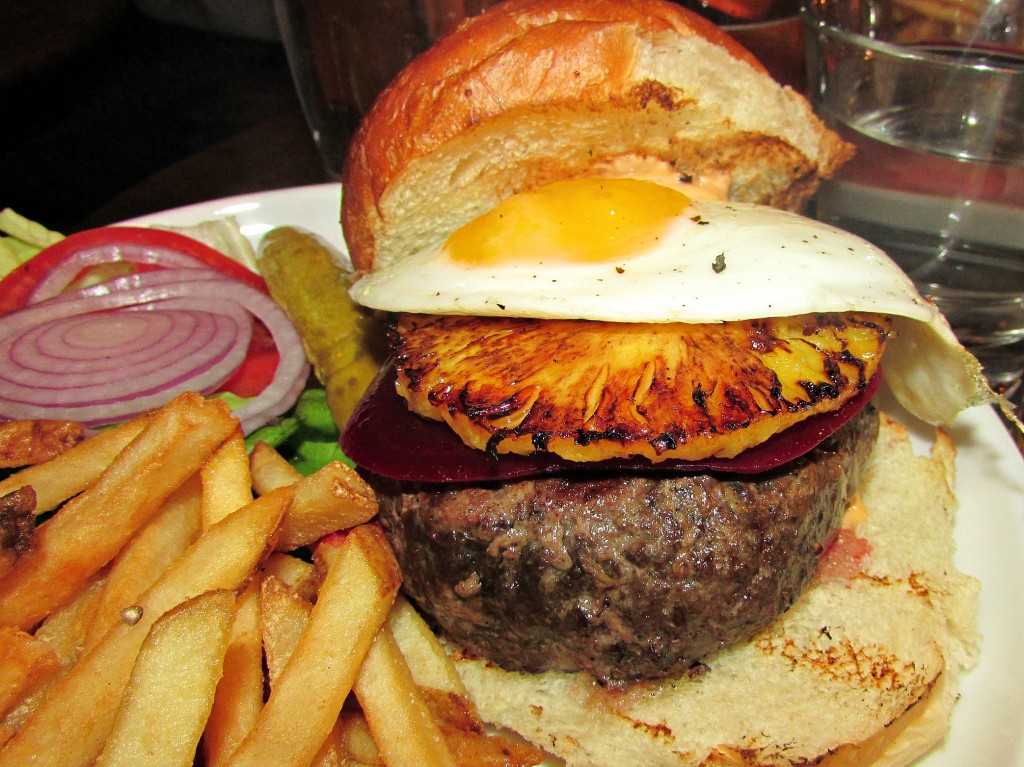 The Experience: After searching throughout South Williamsburg for hamburgers and apartments and finding that the hamburgers were better than the apartments, I ended up moving into a place closer to Greenpoint and moving there after my Hell's Kitchen farewell Burger Adventure. It turned out to be the right choice, both because the apartment is wonderful, and it is just a couple blocks away from Five Leaves. Five Leaves opened in 2008, funded by money from Heath Ledger's estate. It has received praise that would make any restaurant jealous, and continues to be packed all the time. I went last Monday night and had to grab a drink at their sister restaurant, Nights and Weekends, across the street while I waited. One case of brain freeze (from a hastily consumed frozen watermelon margarita) later, I was given a seat outside of Five Leaves in the cool night air.
Burger Ordered: Five Leaves Burger
The Taste: The Five Leaves Burger is an eight ounce, grass-fed, beef patty, topped with a fried pineapple ring, a slice of pickled beet, a well-cooked sunny side up egg, and harissa mayo on a ciabatta bun. Years ago, Rob Patronite and Robin Raisfeld called this burger, "Weirdly delicious enough to make a few converts." I do not think that the sentiment goes far enough. The pineapple adds a sweetness to the burger that feels completely appropriate. I am the farthest thing from a beet guy, but the texture of the beet slice helped to keep the slippery pineapple and egg from being too unruly. The egg was tasty, and thankfully not runny because the pineapple and incredibly juicy patty made this burger moist enough on their own. The patty itself, massive, soft, and dense with flavor, made me swoon with every bite. The truffle fries were perfect, so good that I couldn't stop eating them off of my friend's plate after mine were gone.
The Verdict: I like to visit as many different restaurants as I can, but it's going to be difficult to keep from becoming a frequent eater at Five Leaves. After being served up such a delicious burger, I want to try everything on their menu.
Five Leaves is located at 18 Bedford Avenue in Brooklyn, New York.