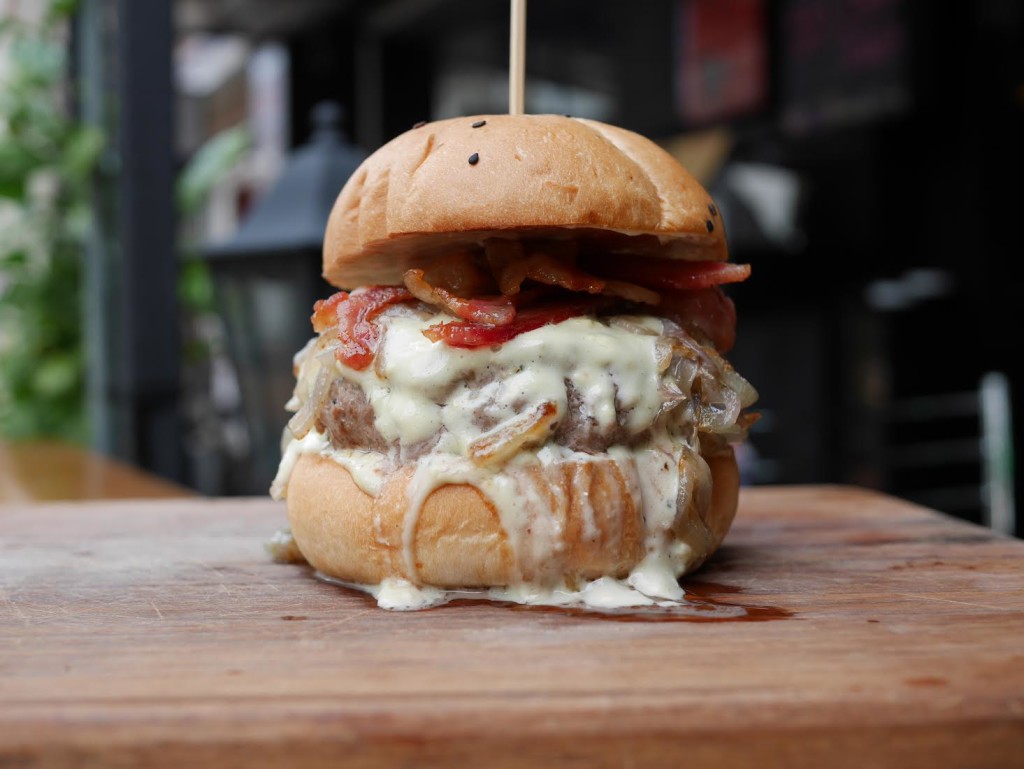 The Experience: Firehouse has been on my radar since it first opened almost 4 years ago. I liked it then, and I like it now. It's a small place with about 8-10 small tables inside and few outside. In the heart of Bangkok, it's a welcome addition to the western comfort food scene. They do big, American-style burgers – right up my ally. Inline with their name, the place is decked out with fireman helmets and photos from around the world; it's a nice nod to dedication and sacrifice of firefighters. I went during the weekday lunch hour, there were a few other customers, but overall it was quite and relaxing – weekends are typically packed, so best to reserve ahead or expect to wait a bit.
Burger Ordered: The BaconBlue
The Taste: On a normal day, I like my burgers plain. I want to taste the beef above all else, and the beef better not have any fillers in it. Kept it simple – a little salt and pepper and let me at the burger goodness. But from time to time, I venture out and order something with a bit more flavor. Let's be honest, whenever blue cheese is in the mix you can expect it to be the star. I don't like this burger for its subtleness; I like it because it hits me right in the face with cheese, glorious blue cheese! Go big or go home – and this goes big. Throw a bit of bacon and sautéed red onions in the mix and you're in burger (blue cheese) heaven.
The Verdict: This is a pretty heavy burger… expect it to sit with you for a while. If you're looking for a light bite or a subtle blue cheese flavor this is not the burger for you. Worth a visit if you're itching for a burger. Come hungry.
Firehouse is located at Sukhumvit Soi 11 in Bangkok, Thailand.
To read more Bangkok burger adventures, head on over to Bangkok Burger Blog.
Sign up for Burger Weekly email updates!