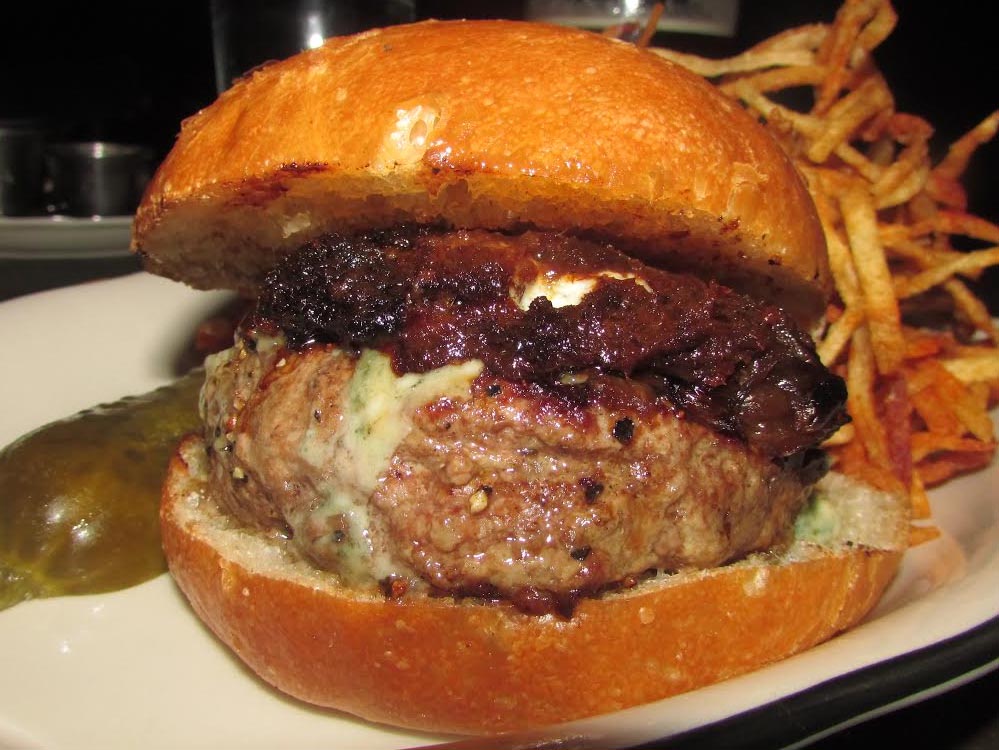 The Experience: The Fillmore Burger at the Fillmore Room solves a problem in the New York City hamburger universe that most of you didn't even know needed solving. That problem is that it is exceedingly difficult to get into the Spotted Pig for their burger, and once you get it you're going to be blasted in the face with roquefort cheese. I say today that the Fillmore Burger is both a more palatable version of the burger at Spotted Pig, and one that is, at least currently, easy to get your hands on.
Some background: The Fillmore Room opened three months ago, helmed by Chef Liran Mezan. Mezan brought along with him burger knowledge from his time at BLT Steak. That knowledge manifests itself in both a beef burger and a lobster burger, made of Maine lobster with shrimp, carrots, onions and celery, tarragon, parsley and chives. I opted for the beef burger, of course, and noticed as soon as it arrived to my table that there was a story to be told about it.
Burger Ordered: The Fillmore Burger
The Taste: The two things that immediately connect this burger to the one at the Spotted Pig are the roquefort cheese that tops it and the mountain of shoestring fries (dubbed tobacco fries here) that come on the side. That said, this isn't a burger clone. The burger is also topped with a bacon jam, and you can add an egg for $3, but I would recommend against it. The sweet and salty elements of the bacon jam (sugar on the one side, bacon and onion on the other) helped to balance the powerful roquefort flavor. At the Spotted Pig, the roquefort overwhelms the entire experience. Here, the balance of savory and sweet give you goosebumps.
The fries are also only similar in appearance to those at the Spotted Pig. They are not heavily seasoned with rosemary, but rather are a mix of fried shoestring potatoes and shreds of onion. They were wonderful, and I found myself devouring them by the handful.
The Verdict: This burger will leave your stomach stuffed and your tastebuds exhausted. Skip the line at the Spotted Pig and walk fifteen minutes due north to the Fillmore Room.
The Fillmore Room is located at 146 10th Avenue in Manhattan, New York.
Sign up for Burger Weekly email updates!