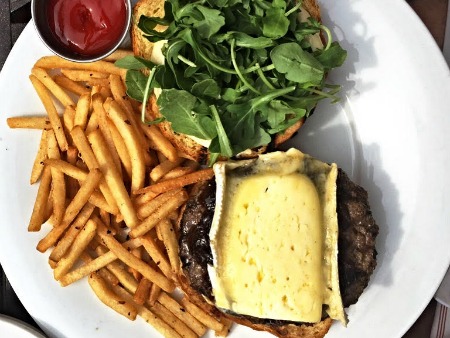 The Experience:  Feast Restaurant + Bar is located in the center of Wicker Park, an area of Chicago that is the epicenter for hipsters.  It is a great place to go out or have dinner, the food and atmosphere is second to none.  My experience while reviewing this burger was exactly how I had imagined it, sat out on the patio, the sun was out and the restaurant was packed.  Feast offers one of the better brunches in the city and their "Feast Burger" is the main attraction.  I had been told the portions are large so I was ready to take on a beast.
The Burger: Feast Burger
The Taste:  The Feast Burger is compiled of red onion marmalade, dijonnaise, St. Andre cheese, arugula sandwiched between a brioche bun.  Once I put the top piece of the brioche bun on the patty, this burger was massive!  It was going to be a challenge to finish.  I took my first bite and immediately noticed that the bun was very dry and very thick.  The cheese was amazing and the patty was a little more cooked for my liking but was still decent.  Believe it or not, the arugula added a flavor of texture that I liked.
The ingredients of the burger came together well and the burger was enjoyable but did not live up to what I was hoping for.  By the end of meal, I needed to take the top of bun off and go straight at the meat.  The patty and the red onion marmalade was great.  Eating the burger without the dry bun made the burger much more enjoyable.
The Verdict:  Feast Restaurant + Bar is a place I will definitely be back to but I may order something different.  The experience and location of the Feast is too good to not go back. If you do go to Feast, don't feel guilty for not ordering the burger but if you are really in the mood for one, you won't go home unsatisfied.
Feast Restaurant + Bar 1616 North Damen Avenue in Chicago, Illinois.