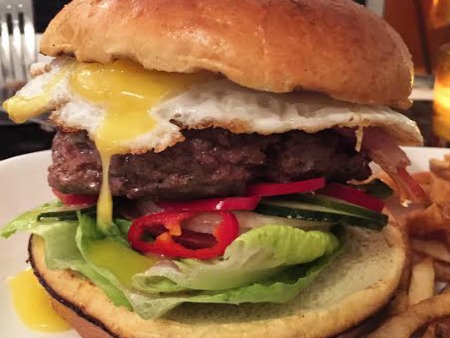 Farmhouse is one of the top brunch spots to hit in Chicago. Everything on their menu has that Saturday/Sunday goodness. What I mean by that is that all of their meals have the light, sweet and salty flavoring that would go well with a Mimosa or Bloody Mary. Not too mention, they are located in River North one of the brunchiest areas in Chicago. The scene this particular Sunday was no different; Farmhouse was jam packed. Nonetheless, once we were seated I asked our waitress what her dream burger from the menu was. Here is what she came up with.
The Burger: Pasture Raised Burger
The Taste: This burger's ingredients included blue cheese, lettuce, onion, tomato, pickles, pickled fresnos (peppers), and a fried egg all on a country roll. ThE burger was big! But even with all those ingredients, one item stood out; the blue cheese. The pungent taste of the cheese took away from the meat and pickled fresnos so much that no other flavor stood a chance. One would assume with the name Farmhouse and pasture-raised label that the meat was good. It was in fact the best part of the burger, but I had to cut off a piece and take the blue cheese off to realize that. Another item that I had some trouble with was the pickled fresnos. They were supposed to bring the spice. Well, that didn't happen, which bummed me out. The burger was good, but I've had plenty of others that were better.
The Verdict: What I learned last weekend was that I will never order blue cheese on a burger voluntarily. The flavor profile is too commanding. I also learned that the next time I go to Farmhouse, I will not be ordering the burger. Their steak and eggs looked way too good to pass up again.
Farmhouse is located at 228 West Chicago Avenue in Chicago, Illinois.
Sign up for Burger Weekly email updates!