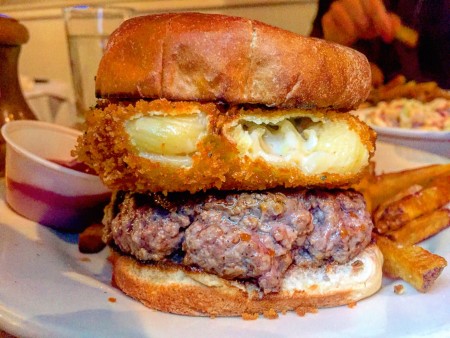 In general, the Upper West Side is a strange place when it comes to food. It's the home of the second location of many restaurants that become popular downtown first. It's the home of interesting and tasty concepts like Joe's that don't stick around and are replaced by stalwarts like JG Melon. And it's the home of weird spaces like Richie's Burger Joint and Fairway Cafe. Fairway Cafe is a medium-sized restaurant located within the Fairway Market on Broadway. To my knowledge, there are 19 Fairways in this mega successful grocery store chain. To my knowledge, there is only one Fairway Cafe. So I'm having trouble understanding how this restaurant got things so wrong despite having the resources to get it so right.
I just want to point out how weird this place is. For one thing, the regular clientele skews much older, which isn't a surprise on the Upper West Side. What is surprising is that this restaurant, which isn't and shouldn't be a fine dining restaurant, has white table clothes, brown paper place mats, and despite having existed for a few years now still looks like they just made room for it in the market last week. Okay, now let's dive into what's going on with the food. 
Burgers Ordered: The Fairway Burger and the Mac n Cheese Burger
The Taste: The Mac n Cheese Burger was a special, and judging by the taste and consistency of the fried mac n cheese patty, they must have been desperate to get rid of some old macaroni and cheese. This thing tasted like something a non profit organization would use to cater an event filled with people they didn't care about. I know that restaurant specials are generally used to get rid of food that doesn't fit on the menu, but usually they at least pretend to cover that fact up. Not at Fairway Cafe.
On both the Mac n Cheese burger and the traditional Fairway burger, the patty was clearly made of quality meat, but it wasn't seasoned at all. Not one grain of salt or pepper could be detected on it. I know the older set is afraid of salt, and their taste buds have deteriorated to the point that it would take a ton of salt to allow them to really notice any, but come on Fairway Cafe, give us a break. This patty could not have been more bland and mushy. I had to douse the damn thing in mayo. You're part of a grocery store, take some pride in presenting what you sell.
The Verdict: I liked the fries I guess, and the large-format beer was pretty cheap for what it was. But damn, this burger was such a mess.
Fairway Cafe is located at 2127 Broadway in Manhattan, New York.
Sign up for Burger Weekly email updates!