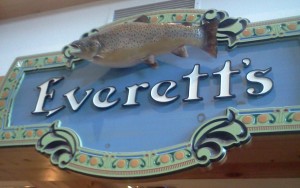 Burgers Ordered: Jake – Cowboy Burger
The Experience: Everett's is located inside the Mountain Grand Lodge and Spa at Boyne Mountain Resort, a visually impressive facility. The restaurant is located just off the main lobby, and is named after Boyne Resorts' founder Everett Kircher. The walls are decorated with various photos of Everett and his family, as well as his various hunting and fishing conquests over the years.
Unfortunately, Jake was only able to order this burger on a lunch break from work, so he did not have time to sit and really soak in the experience while on his limited time frame. Even so the wait staff was very friendly. Everett's is also situated in between an indoor water park and a full service spa and salon, so those who seek Everett's may find a lot more to do than simply have a meal.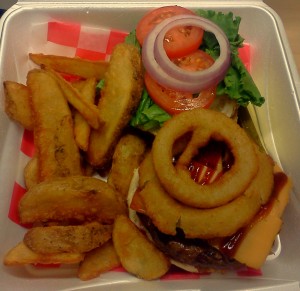 The Taste: The Cowboy Burger style is a favorite of Jake's. This particular Cowboy Burger was a bison burger topped with smoked cheddar, crispy onion rings, lettuce and tomato, and finished with Sweet Baby Ray's BBQ sauce on a pretzel bun. The bison flavor was remarkably delectable, and the various accoutrement all did their job admirably. The cheddar was indeed smoked, and the onion rings were indeed crispy. Sweet Baby Ray's is one of the best BBQ sauces on the market, and its tangy goodness accentuated the burger. Whoever started the trend of putting burgers on a pretzel bun deserves special commendation, as this was the right choice for this Cowboy Burger. The large steak fries served with the burger were also expertly done, with the crispy skin on the outside Jake loves so much.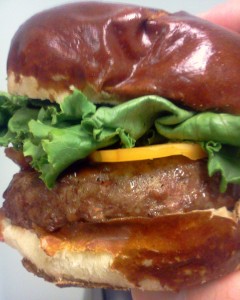 The Verdict: The Cowboy Burger at Everett's was tremendous and Jake's only regret is that he had to eat it so quickly on a lunch break and didn't have time to sit and savor it. Those going to Everett's should make sure to set aside some time to really enjoy it.
Everett's is located at 1 Boyne Mountain Road in Boyne Falls, Michigan.