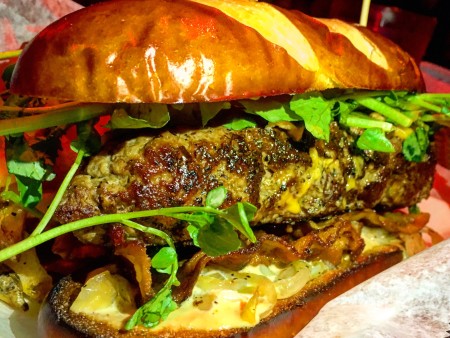 So, Ethyl's is a pretty strange place, eh? More specifically, it's a strange place for the Upper East Side. With it's go go dancers, Bruce Lee movies playing on repeat, dark aesthetic, and funky menu, I'd expect this joint to be in Chinatown or the Lower East Side, if not Brooklyn or Queens. But here it is, on the Upper East, and it's serving burgers that are actually pretty damn dope.

Burger Ordered: Coventry Sub Burger
The Taste: This burger reminded me a lot of the one at Father's Office, in that it ditches the traditional circular burger shape for an oblong/hybrid-sausage deal on a pretzel sub bun. But it's a lot tastier than the burger at Father's Office. The pretzel bun is deliciously buttery and toasted. The soft port wine cheese was spreadable over every bite. The bacon was nice and crispy. And while I didn't care so much for the watercress, it made for a nice crunch on top of the juicy patty. This is a very large, 10-ounce burger, and it's perfect for sharing with a friend (it's much easier to cut in half than a typically-shaped burger).
The Verdict: Upper East Siders are getting a nice jolt of flavor at Ethyl's, both with the burger and the "not from around here" digs.
Ethyl's Alcohol & Food is located at 1629 2nd Avenue in Manhattan, New York.