Ethan Hunt and His Mysterious Meat |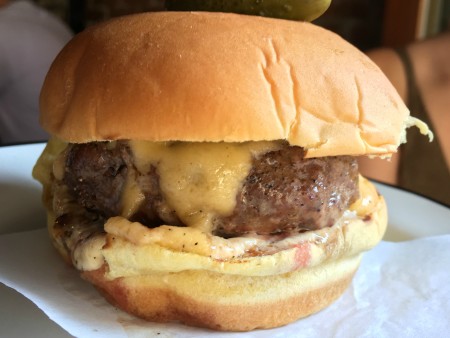 Did you know that Ethan Hunt opened a bar on the Upper West Side? Did you know that fictional characters from Mission Impossible even had the ability to own property in real life? Well Ethan Hunt apparently did, and it's pretty dope. It completes a bar/restaurant trifecta along with Joe's and Jacob's Pickles that creates a breath of fresh air in the neighborhood otherwise filled with awful, douche-filled dives a few blocks south. The place is designed with adults in mind, focusing primarily on booze but with an eye for bar food that you'd want to come back for. I've always wished that Ethan Hunt was real (he is, it's just a dude in real life who happens to have the same name as the Ghost Protocol/Rogue Nation/other fantastic subtitle character), so e's Bar had a lot of my good will going in.
Burger Ordered: e's Burger
The Taste: I'll never understand why some restaurants won't divulge where their beef comes from, but you probably won't care after taking a bite of this burger. The beef is one step off gamey, but slight funk won't cost you as the burger is only eight bucks. It's topped with special sauce and gooey sharp cheddar cheese. If you're gaga for the cheese, they also fill fried balls with them. I recommend the fried balls of sharp cheddar cheese. The aptly named "fried chicken things" are also salty, savory treats.
The Verdict: Knock the tiny tomato off the top of the burger and dig in at e's Bar, because this bar food is perfect for anyone who doesn't want the stupid large portions (or long wait) next door.
e's Bar is located at 511 Amsterdam Avenue in Manhattan, New York.
Sign up for Burger Weekly email updates!