The Sequel to 2014's Burger of the Year |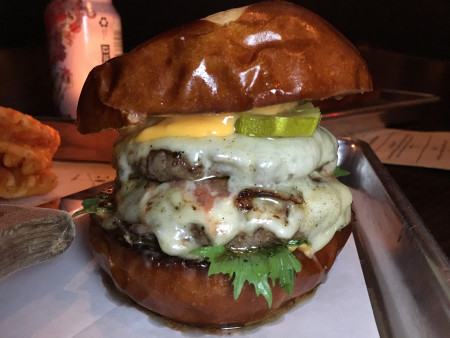 Is there a bigger beneficiary of the digitization of the food scene than Emily and Emmy Squared? Through innovative takes on elemental menu items like burgers, pizza, and wings, engagement (and genuine friendliness) with digital media and social influencers, and straight up eye catching food, Matthew Hyland has found himself at the helm of two bonafide Brooklyn bar food bonanzas. The Emmy Burger at Emily in Clinton Square topped my 2014 Best Burger of the Year list, so I had very high expectations of Le Big Matt. Served at the downstairs burger bar at Emmy Squared for dinner on Fridays and Saturdays (and upstairs at lunch), this spiritual sequel to the Emmy Burger had a lot to live up to.

First, allow me to say that as a Detroit native, the square pan pizza at Emmy Squared is a faithful take on the style that Buddy's Pizza made famous. I went to the burger bar because right now they're also serving the PepperNoni, a gnarly piece of business with pepperoni baked right into the caramelized cheese in the crust. It was straight out of my dreams; a true death row wish list meal. But how did the burger stack up?
Burger Ordered: Le Big Matt
The Taste: Le Big Matt shares a few elements of the Emmy Burger. The pretzel bun is the same. The dry aged beef from Fleishers is the same, though there are two, smaller patties here vs. the pub-style patty at Emily. But the cheese is American instead of Grafton cheddar, you've got traditional pickles instead of cornichons, and instead of Emily's very distinct Emmy Sauce, this burger is topped with a smack-you-in-the-face spicy sauce. That sauce really sets this thing off. I had that flavor on my brain for the rest of the day, and I wasn't mad about it at all.
The Verdict: Hyland could make a mint bottling his burger sauces (which are also featured on some of his pizzas), but I think it's safe to say he's doing just fine making killer burgers at both restaurants.
Emmy Squared is located at 364 Grand Street in Brooklyn, New York.
Sign up for Burger Weekly email updates!