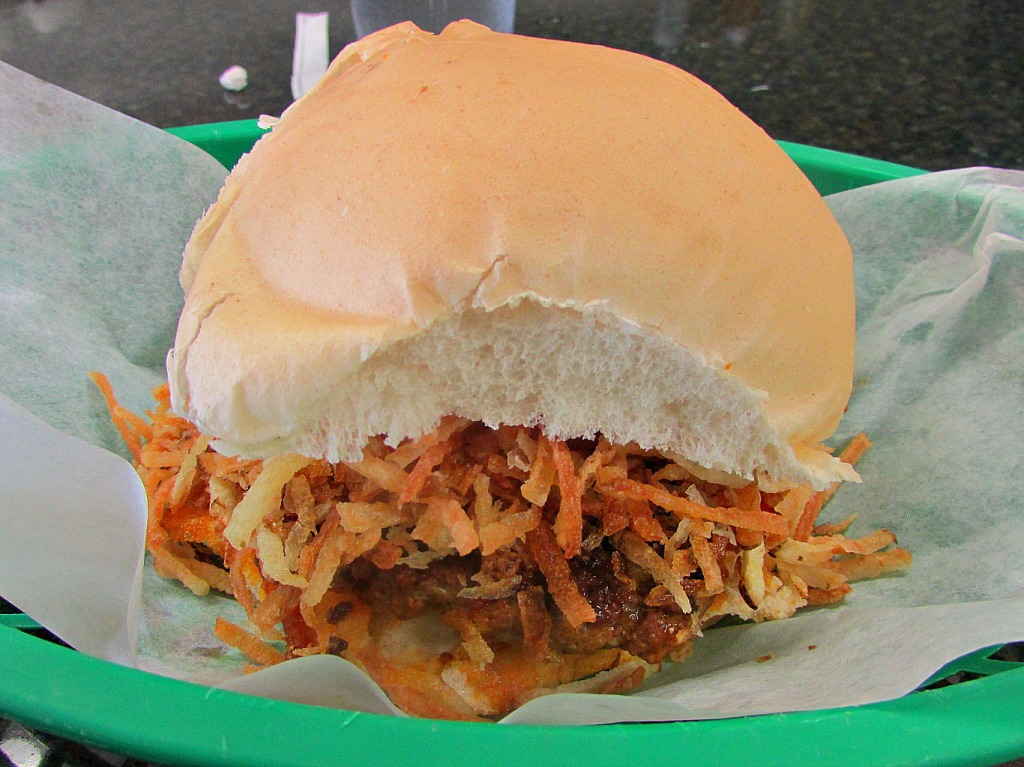 The Experience: Let me tell you about a girl I just met. Her name is Frita, and she has added depth to my burger world. I met her through Sef from Burger Beast, who was kind enough to guide the First Lady of Burger Weekly and me through El Mago de las Fritas to make sure we ordered all the right things. He made sure we went on Saturday morning, the only time of the week when El Mago serves up Chicharrones. We also ordered pan con bistec (steak sandwich), a tamal, and a Callejera (omelet sandwich). Everything was absolutely delicious, especially the chicharrones. But this is Burger Weekly, and I was telling you about my new friend Frita.
Burgers Ordered: The Frita Traditional and the Frita a Caballo.
The Taste: The frita is a Cuban take on the hamburger. Prepared in a manner similar to the traditional slider, the thin patty is grilled alongside onions, and the bun is placed on top of the patty for a portion of its grill-time. It is also topped with potato wisps. The patty is seasoned differently than your typical slider, and is significantly less greasy. It was massively tasty. Sef let us know that it is considered by many to be sacrilege to add cheese to your frita, but cheese is available at El Mago. The Frita a Caballo, a traditional frita topped with a fried egg, was everything I could have wanted in a brunch item.
The Verdict: I heard a lot of hype for El Mago de las Fritas from fellow New York burger fanatics who had made trips to Miami. I'm happy that it lived up to its reputation. I must recommend going on a Saturday morning and getting the chicharrones too, because they're completely addictive and a great partner for your frita burger meal.
El Mago de las Fritas is located at 5828 S.W. 8th Street in Miami, Florida.