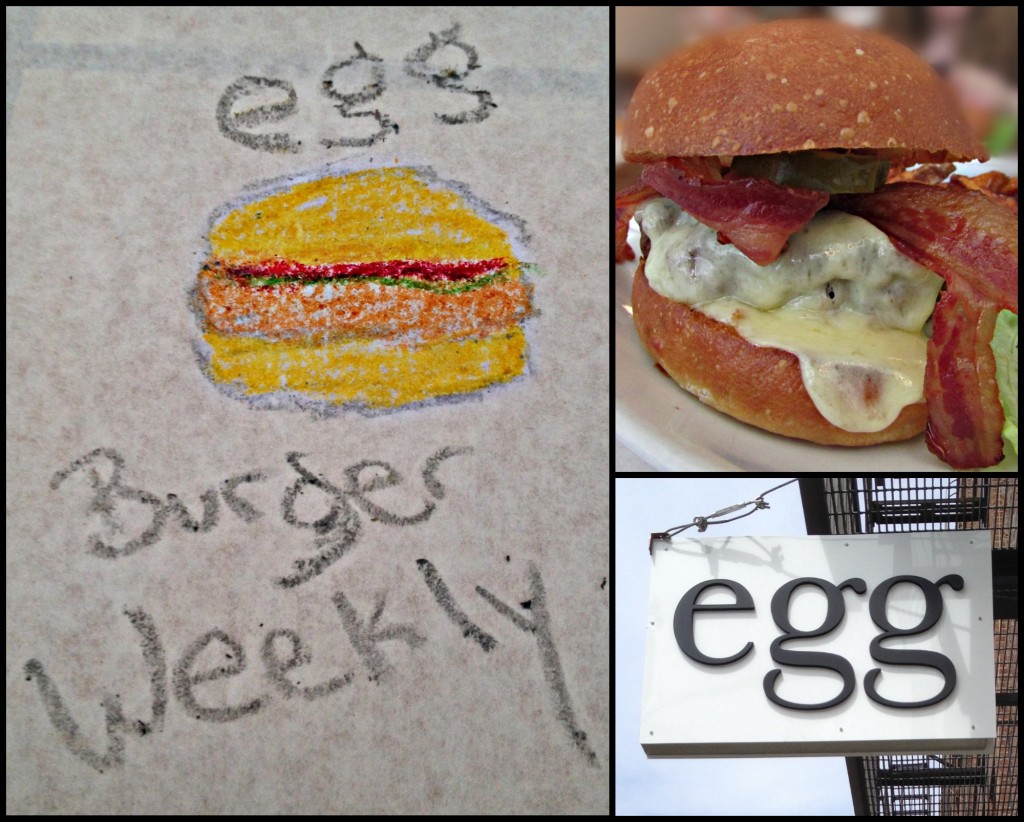 The Experience: I've lamented before the difficulty I've had in eating every burger listed on Grub Street's 2009 Burger Register. Now five years after the list's publication, and three years after starting my quest through Burger Weekly, I've eaten 46 of the 82 burgers originally listed. Horrifyingly, in the time since the list was published, 18 of the restaurants have ceased to exist. As such, I have rededicated myself to devouring the remaining 18 burgers, at the rate of at least one a month.
First up is a place I had visited for brunch at least half a dozen times. Though I had always known that this burger was on my list, Egg frustratingly only serves it for lunch during the week. As 9-to-5'er, I was at a loss as to how to get my hands on this notable hamburger. Luckily for me, the Jewish Holiday Fairy smiled upon my fortune, and Passover gave me a few opportunities to eat this non-kosher-for-Pesach meal.
Burger Ordered: Bacon Cheeseburger
The Taste: On an uncharacteristic whim, I decided to forgo the eponymous topping and stuck with a simple bacon cheeseburger. Egg describes its burger as a half-pound of freshly ground grass-fed beef pan-seared patty, served with lettuce, broiled tomato, onion, pickle, and French fries (or salad, if you're silly). Egg may have recently relocated a few blocks from its original Williamsburg location, but it brought with it whatever skill had earned its great-burger reputation. The patty was served medium rare, was juicy but not overwhelmingly so, and triggered more than a couple tastebud pleasures. The broiled tomato was clever, and different enough from the typical sliced tomato that I despise so much that I didn't feel the need to remove it from the plate. The bun was excellent, as were the fries. Who would order a salad with this meal?!
The Verdict: This is simply a damn good burger. It's grilled with precision and talent, its toppings (even the Rabbit Food) and unique and appropriate, and its bun is a fine piece of work.
Egg is located at 109 North 3rd Street in Brooklyn New York.