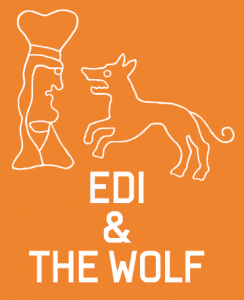 Burger Ordered: Cheeseburger
The Experience: Edi and the Wolf stands out in New York's burger scene as much for its decor as it does for its burger. Located deep in Alphabet City, the spot looks like something out of Once Upon a Time, with wood and flora covering everything, ropes hanging from the bar, and lighting reminiscent of Captain Hook's pirate ship. All that's missing is a waiter named Rufio and a hostess named Ursula. The service and music choices at brunch time leave something to be desired, especially if you're not strictly a fan of Biggie and Tupac, so the burger had a lot of work to do.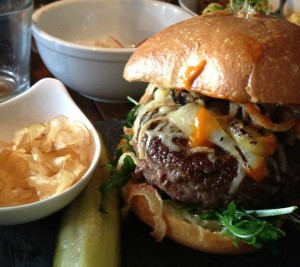 The Taste: The brunch cheeseburger is a thick patty topped with paprika aioli, crispy onions, and Gruyere cheese. The burger and toppings mentioned tasted excellent, but there were some flaws that could bother some. A more health-minded person than the Burgermeisters won't mind that the burger comes with chips instead of fries, but many purists would be irked that ketchup is not made available. And while the health-conscious might enjoy the chips, they'd be frustrated with the heavily greased feeling they're left with at the end of their meal.
But this is a brunch burger, which means there are other foods eaten that get a shout out. The scrambled eggs at Edi and the Wolf are fantastic, and the meal comes with delicious, delicious orange juice.
The Verdict: If you're a fan of a hefty burger and potato chips, then Edi and the Wolf has the burger for you, with its interesting paprika aioli and Gruyere cheese really setting it off. If you're a lighter fare type of Little Meister, other burger spots might satisfy your brunch craving more effectively.
Edi and the Wolf is located at 102 Avenue C at 7th Street.