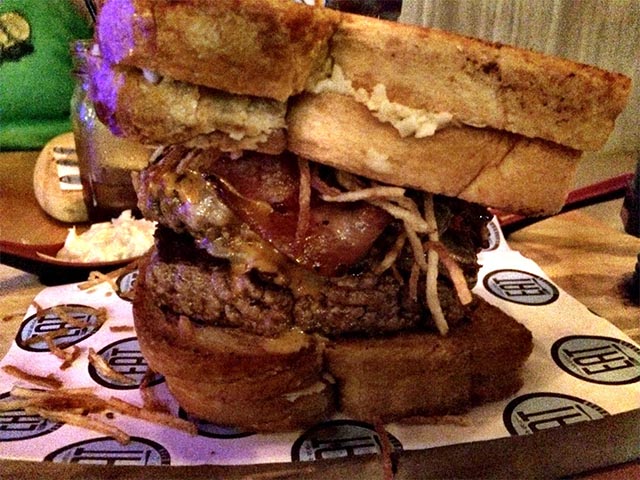 The Experience: I'm a pretty big fan of the concept of Gastropubs, and I'm excited that they are spreading throughout Long Island. They are a nice change up from your standard bar, sports bar, or traditional restaurant. What makes EAT Gastropub in Oceanside special is that they use mostly organic and non-GMO ingredients. They also use organic grass-fed beef, fresh produce from their own greenhouse, and other homemade or locally sourced foods and condiments. These things make me a very happy Burgermeister. EAT features indoor and outdoor seating and extremely friendly and knowledgeable staff. They also offer 24 craft beers on tap. I hit the joint with my good buddy Chris and we were down to tear it up!
Burger Ordered: The Cure-All
The Taste: We started off with the buffacue wings, which were nicely sauced with a bit of heat and a very nice flavor as well. We split the lobster mac & cheese, which was very tasty. Both Chris & I ordered the Cure-All Burger, which features a bacon double cheeseburger in between two grilled cheese sandwiches, topped with crispy potato sticks, sriracha, and bacon-ranch dressing.
Let's break this thing down; the grilled cheese aspect was fantastic, with the bread nicely buttered and perfectly griddled. The cheese was absolutely delicious. The bacon on the burger was tasty and perfectly cooked, and the patties were flavorful and medium rare. Chris pointed out that the potato sticks were a nice touch and a cool texture change up.
Chris had his bacon-ranch dressing on the side, as he's not a fan of ranch. He slid it over to me and I used it for fry dipping. Totally yummy. The big question, after splitting ten wings and lobster mac & cheese, was whether or not we finished our burgers. I finished my burger and my fries, but Chris tapped out halfway through and smartly got the rest to go. I bet it made an awesome lunch for him.
The Verdict: If you're into burgers, which you must be if you're reading this, and you're on Long Island, go to EAT and get down with this feast. If you dig burgers but think this behemoth will be too much for you to handle, no worries, they've got six others burgers on their menu. You know I'll be back!
EAT Gastropub is located at 2823 Long Beach Road in Oceanside, New York.