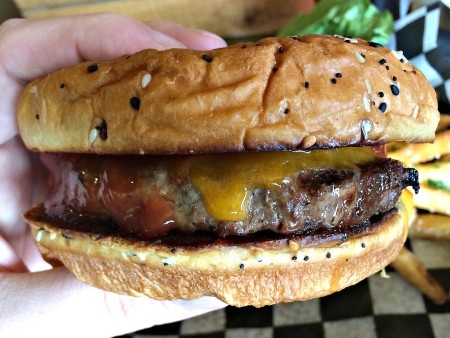 A new job means new restaurants in the vicinity of my fancy downtown Charlevoix office, and new restaurants means only one thing to me – new burgers. It didn't take long for me to check out a new spot on one of my first lunch breaks, since it was only about half a block away. The East Park Tavern is one of many bars in the summer tourism hotspot where I work, so how would they make their burger stand out?
Burger Ordered: East Park Burger
The Taste: This is a fairly burly burger, topped with the standard LTO and pickles on the side. Cheese, bacon, mushrooms, and carmelized onions are all extra, so I stuck to just cheese today because I'm horrible at keeping Kosher and like cheese on my burgers. The beef was cooked a little bit more than the medium rare that I asked for, but not enough to destroy the flavor. The sesame seed bun was nicely toasted and it helped add an unexpected though welcome crunch to the experience. I also added truffle fries to my order, which in my view is always choice.
The Verdict: East Park Tavern serves up a solid burger at a decent price (though it can get up there if you want to dress it up a lot). Fortunately for me I like my burgers simple and the East Park Tavern fits the bill. They won't see me every day or anything, but I will most certainly be back.
East Park Tavern is located at 309 Bridge Street in Charlevoix, Michigan.
Sign up for Burger Weekly email updates!