A Hell's Kitchen Origin Story and Some Burger Nostalgia |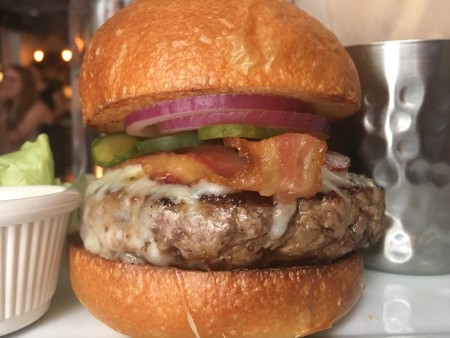 Hell's Kitchen is a strange name for a neighborhood, and I've always been partial to the Davey Crocket theory of its origin. The Dutch Fred theory is pretty similar, but gives the credit to this restaurant's namesake rather than the famous frontiersman. But I digress, if you want to know more about why Hell's Kitchen is called Hell's Kitchen and why this restaurant is called Dutch Fred's, I invite you read the neighborhood's Wikipedia page. If you want to know how the burger at Dutch Fred's is, read on here.
Burger Ordered: Bacon Cheeseburger
The Taste: Have you ever had a burger at a country club? They tend to be very onion-focused; sautéed onions in the patty, red onion on top. It's a flavor profile that takes me back to visiting my grandparents at their club in Florida. I got a wave of that nostalgia when I bit into the burger at Dutch Fred's. On top of that, the meat was supple and tasty, while the bacon added a nice influx of salty flavor. This is a burger for a real onion enthusiast.
The Verdict: A nice burger is complimented by an interesting cocktail list and a few rockin' beers. This is a neighborhood in dire need of good burgers, making Dutch Fred's a welcome addition.
Dutch Fred's is located at 307 West 47th Street in Manhattan, New York.
Sign up for Burger Weekly email updates!