Burgers Ordered: Brad, Matt & Anthony – The DuMont Burger
The Experience: Moving house is always hard. Since moving to New York, Brad hasn't lived in any one apartment for more than 9 months. Even though he has become something of an expert at getting from apartment to apartment in the city, he still finds it to be the most stressful thing in the world.
Matt, being the supportive friend that he is, insisted that the Burgermeisters get a taste of Brad's new neighborhood in Williamsburg, Brooklyn a few days before his big move. This was exciting for a number of reasons, the most important of which was that somehow the Burgermeisters had eaten 29 burgers and none of them had been at restaurants in Brooklyn.
So for the milestone occasion of the Burgermeisters' 30th Burger Adventure, Brooklyn was breached. As a means of testing the oft cited Zagat guide to all things food, the Burgermeisters decided to try out their highest-ranked brooklyn burger joint (#3 overall in New York). So off to DuMont they went.
Taste: The first thing that DuMont did right was to serve homemade mini doughnuts before the meal, gratis. Brad was immediately taken back to childhood autumns spent at the cider mill in Franklin, Michigan eating the most deliciously greasy doughnuts known to man.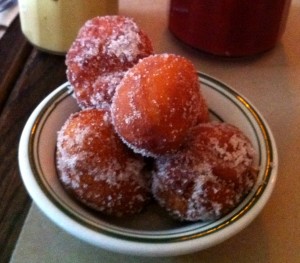 This is how you butter up a Burgermeister.
Matt brought along his childhood friend and longtime Burger Weekly supporter Anthony to this week's Burger Adventure. Brad, obviously stressed over his impending move, teased Anthony relentlessly for ordering his burger well done. Anthony vowed to slowly but surely order his burgers rarer, if for no other reason than to know what a less overcooked burger tastes like someday. Brad ordered his burger medium rare as usual. Matt did the same, with American cheese.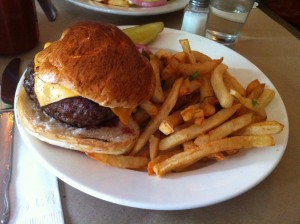 Our first Brooklyn burger.
Matt couldn't stop talking about the DuMont Burger's exquisit bun. He suspected that when someone orders a DuMont Burger, someone in the kitchen makes a call to a local bakery so that they can run over and grab a freshly baked bun. He marked this as the best part of the meal.
Brad remarked at the fact that the inside of the burger was as pink as it gets, while the outside of the burger was chargrilled with fantastic flavor. It reminded him of a much more poorly-cooked burger at a certain hotel-housed burger joint. With this review, Brad hopes that other burger joints take note of DuMont's style and try to emulate it, at least in part.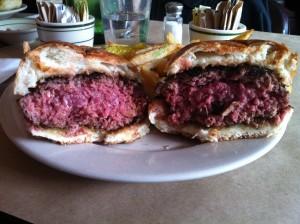 Study this picture, burger joints.
Anthony's burger did not look like the above photo, but he said he found it to be delicious nonetheless. He also said he was excited to find out what a "real burger," tastes like. Brad appreciated that, and gave him a five minute teasing reprieve.
The burgers came topped with lettuce, tomato, bread & butter pickle chips and red onion, supported by fries and a pickle wedge. Everyone agreed that the fries were outstanding, though Anthony couldn't finish his. Though none of the Burgermeisters are fans of bread & butter pickles, Matt went through and devoured them off of everyone's plate. The dill pickle wedge put smiles on everyones's faces.
The Verdict: It's the Burgermeisters' pleasure to report that their first trip to Brooklyn was a complete success, and DuMont delivered on all counts. From the bun to the patty to the red onion and pickle, DuMont is a can't miss Burger Adventure.
DuMont is located at 432 Union Avenue between Metropolitan Avenue & Devoe Street.