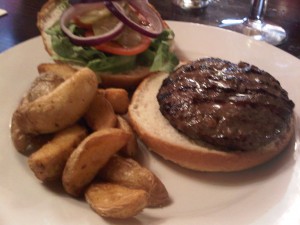 Burger Weekly goes International.
Burgers Ordered: Lauren – The 200g Burger
The Experience: For International Burgermeister Lauren, this wasn't just grabbing a quick lunch with friends or trying a new place for good meat in Haifa; it was much more than that. After four years of a roller-coaster ride through medical school, Lauren's friends had become an incredible family. And what does family do to celebrate an occasion the magnitude of finishing med school? Eat and Drink. Lauren's friends had just completed their final exam of medical school, so the only way to cap the day was a pub crawl throughout the city to all of their old haunts. Halfway through their marathon, they passed The Duke; an upbeat Irish pub located on a main street in Carmel in Haifa – a busy, young, modern, fast-paced area at the top of the mountain in the city. They had been there many times before, but never for burgers. That was about to change.
The menu included everything from steak sandwiches to an Irish Shepherd's pie. Lauren and her friends all went straight for the burger list, which was simple and to the point: choices of 150 to 250 grams (about 5 to 9 ounces for those of us on this side of the Atlantic) of ground sirloin, all coming with sides of potato wedges and Israeli salad. Additional toppings included sautéed mushrooms and onions, fried egg, and/or roasted peppers. Being a kosher pub, you won't be finding any cheese or bacon add-ons.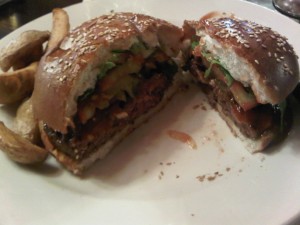 Irish fare made with Israeli care.
Lauren opted for the 200 gram (7 oz) burger, cooked medium to well-done, with a chetzi Stella (1/2 liter on tap). For anyone who eats meat in Israel, the scale of ordering your meat well-done to rare is very different from the US. Well-done meat is still pink on the inside, while rare is living, breathing muscle ready to get up and walk off your plate. If you want your meat thoroughly cooked, you've got to ask for the overly well-done special. It took Lauren's crew four years in Israel to perfect their meat-ordering skills to their tastes.
The Taste: For a pub that was packed in the middle of the day, the service was awesome! Lauren's burger came perfectly cooked, beautiful grill marks on the crispy outside and a little pink on the inside to create a mouth watering, juicy, flavorful burger. It was placed on a sesame seed bun with lettuce, onion, tomato and Israeli pickles. The meat itself had a special mesquite seasoning that was present with each bite. The flavors were complimented nicely with the spicy seasoned potato wedges.
The Verdict: Lauren and her friends raved about the great burgers full of flavor that made them want to pause their pub crawl for the rest of the day.  A nice food coma was settling in as they sat at the Irish pub wondering why they never opted for these burgers before. Their energy picked back up when the owner of the pub came to congratulate them on completing medical school with shots of whiskey (note it was about 2pm).
The Duke is located at 107 Moriya Ave in Haifa, Israel.