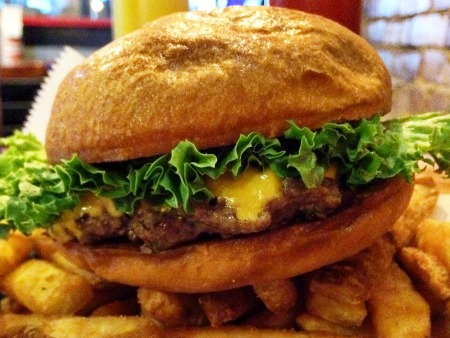 Duffy's Garage and Grille is conveniently located in downtown Petoskey, with a great view out to Little Traverse Bay. The décor is reminiscent of Detroit's amazing Vinsetta Garage, with car parts and various memorabilia hanging from the walls. Their website advertises homemade bruschetta, gourmet burgers, and… well I stopped reading right there and made my way in for lunch.
Burger Ordered: Your Burger
The Taste: Burgers at Duffy's are one third pound and served on a brioche bun. I went with the lunch special, which was a sparse burger. It came with choice of Cheese (American, duh), ketchup (sorry Brad), and lettuce. Somedays I like a simple burger, and this one fit the bill. I realized after the fact that they never asked how I wanted it cooked, but somehow it came out cooked expertly – well flavored and complementary to the brioche bun. I substituted beer batter plank fries for the regular fries, and let me tell you that was worth the $2 upcharge.
The Verdict: Duffy's snuck up on me, as it's apparently been there for about 18 months and I hadn't heard of it until recently. That's a real shame, because the simple burger I had was great, and they have several other unique burger variations (Boston Burger and Mozzarella Alla Caprese Burger to name a few) that I'm eager to go back and try.
Duffy's Garage and Grille is located at 317 East Lake Street in Petoskey, Michigan.
Sign up for Burger Weekly email updates!