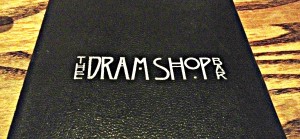 Burgers, Beer, Blood & Football
Burgers Ordered: Brad & Toby – Double Burger; Matt – Triple Burger.
The Experience: Guest Burgermeister Toby is becoming something of a regular at Burger Weekly. This week Brad and Matt traveled to Toby's turf (aka Brooklyn), to grab a burger at the Dram Shop and watch a whole mess o' football. Dram Shop has been on the Upcoming Adventures list since the beginning, so the anticipation for their offering was high.
Upon arriving to the bar the Burgermeisters were worried they'd have to take their business elsewhere, as week 2 of NFL football left them zero places to sit. Luckily, they were persistent and poached just enough space for the three of them the second it became available. Immediately a waitress was at their beck and call, telling them the difference between Dram Shop's burger options (which ultimately came down to a single, double, or triple patty), and getting them set up for their lunch.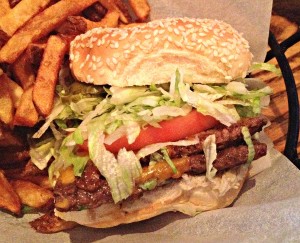 The Taste: Though a double or triple patty seems daunting, Dram Shop keeps their patties slim. As such they could not be cooked to order, but this bar knew how to keep their skinny slips of meat juicy. Brad tore through his double burger, while Toby luxuriated with his. Both of them fawned over the generous helping of pickles that topped the burger. Brad also praised the mustard/mayonnaise mixture.
Matt's triple burger gave him no trouble, and left him feeling full and comfortable afterwards. His bacon was tasty as well. The only problem that Matt had with his burger was that it was obvious that the American cheese had been put on while the burger was being assembled and not while it was being grilled, leaving it less melted than what would be ideal.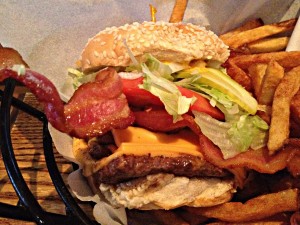 The Verdict: The burgers were quite delicious, the fries were plentiful and tasty, and the Giants made an incredible comeback to beat the Buccaneers. If you can find a place to sit then you should spend your Sunday at the Dram Shop.
Dram Shop is located at 339 9th Street between 5th Avenue & 6th Avenue in Brooklyn.