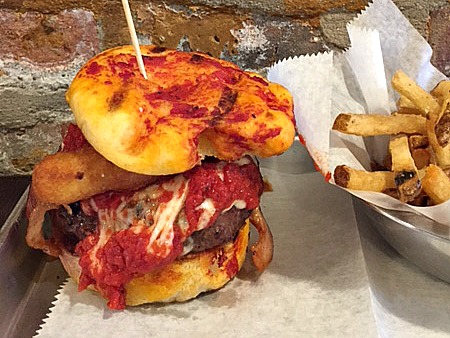 The Experience: Diez Y Ocho (DYO) is a throwback burger spot that cooks crazy and modern burgers. This place is like a mystery novel, you do not know what is coming on the next page. When you walk into the restaurant you see an open kitchen with a diner like counter with tables set up around the walls. But when you see the menu, you are floored by the creativity and unique burgers they make. DYO was a pleasant surprise in every way possible, the atmosphere was great, the people eating were nice and the food was awesome. I felt great about bringing my friends along with me to this review because the burgers lived up to the hype.
The Burger: Un-BULL-ieveable
The Taste: This burger is unique from the top bun to the bottom bun. The bun is a tomato brioche and under it are 2 mozzarella sticks topped with marinara sauce. The one ½ lb patty was cooked to medium rare perfection and the mozzarella cheese & marinara sauce added just the right amount of moisture. My first fear was that the burgers' bun would become too soggy but to my surprise the bun absorbed the juices well and the burger construction stayed together.
The Verdict: I loved Diez Y Ocho. The Un-BULL-ievable was the most unique burger I have had (maybe I need to get out more) but it was awesome. I will go back again and I highly suggest those that live in Chicago to give it a try.
Diez Y Ocho is located at 2000 West 18th Street in Chicago, Illinois.
Follow @badguyburgers on Instagram for more Chicago burger knowledge.
Sign up for Burger Weekly email updates!