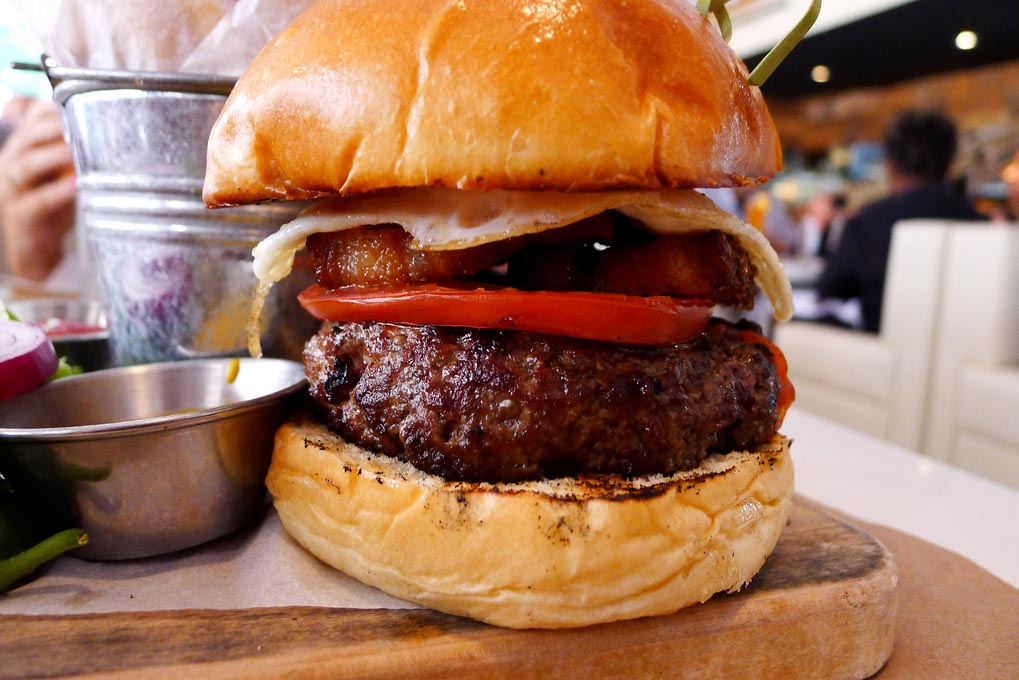 The Experience: When is a burger worth its heavy price tag, and when is a restaurant just baiting you to spend more money? That's a question I think about a lot as a burger fan, as the burger was originally conceived to be a cheap meat sandwich lunch alternative. Delicatessen isn't struggling. On a Friday night the place is packed from the back of the house to the front of the bar. They are well known for their multiple mac n' cheese choices, and have a clandestine bar in the basement. Their burger menu features three options: a house burger for $15, a turkey burger for $13, and a "Signature" burger with pork belly for $20. There's also a so-called Atlantic salmon burger, but I'm skeptical that that's more than a standard fish sandwich.
I took the bait and ordered the twenty-dollar Signature Burger. That's far from the most I've ever paid for a hamburger, but for some reason I was skeptical that those extra five dollars were going to be well spent.
Burger Ordered: The Signature Burger
The Taste: My eating experience was mostly positive. The patty was pink and soft and seasoned expertly. The bun was supple and tasty, the cheese balanced out the patty well, and the tomato was almost unnoticeable (the best thing you can say for a tomato on a burger). But the price-driving element of this burger was a dud; the pork belly was nearly void of flavor. It added a fatty texture that some would likely enjoy, but for me it was a wholly unimpressive aspect of the meal. I've had wonderful pork belly burgers , but this was simply a good burger with poorly-received pig.
The burger was also topped with an egg, which inspired me to add a new item to the Burgermeister Dictionary: Egg-to-Mess Ratio. If the mess that an egg on a burger is more troublesome than the flavor of the egg is enjoyable, then the egg was an unnecessary addition to the burger. The Egg-to-Mess ratio on this burger leaned ever so slight too far toward mess. Delicatessen absolutely needs to provide Burger Lifts with their Signature Burgers.
The Verdict: Delicatessen has a strong patty game, so I would encourage you to go and get a house burger with cheese. But skip the Signature Burger, as it doesn't justify its own price tag.
Delicatessen is located at 54 Prince Street in Manhattan, New York.