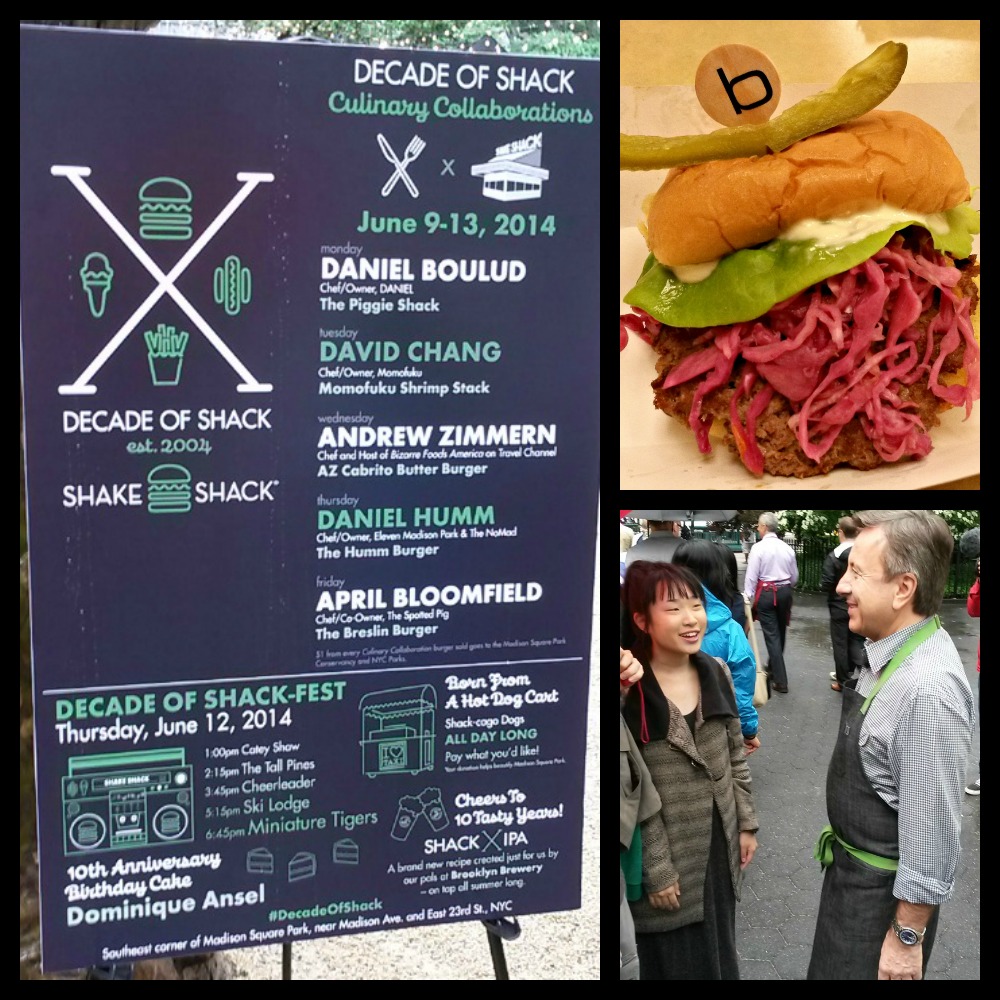 New York City institution Shake Shack celebrated its 10 year anniversary with a unique burger by a renowned NYC chef every day of the week. Naturally, this drew an enormous crowd, along with media, so the 1,000 special burgers cooked each day went incredibly quickly. I waited about 90 minutes for the opportunity to enjoy Daniel Boulud's Piggie Shack Burger, and it was worth it.
The Piggie Shack was a Shack beef-blend patty topped with DBGB's barbecue pulled pork, jalepeño mayo, Boston lettuce, and mustard-vinegar slaw. The burger's hook was the pulled pork, slaw, and mayo. The pork was delicious, cooked perfectly, and almost creamy in texture. I just wish there had been more of it. The slaw comes out a bit overwhelming, and the mayo a bit underwhelming. I would have preferred a ratio of more pork and less slaw, but this was still excellent. The patty was the standard Shake Shack offering, cooked a little more than medium-well and delicious. The bun was somewhat flimsy but very fresh.
It was delicious and totally worth the long wait. I was the only Burgermeister from Burger Weekly to successfully obtain a Decade of Shack specialty burger, and feel very special because of it. The burgers we missed were:
David Chang's Momofuku Shrimp Stack
Andrew Zimmern's AZ Cabrito Butter Burger
Daniel Humm's Humm Burger
April Bloomfield's Breslin Burger
In lieu of reviews of those burgers, here's a wonderful video produced by Alexandra Rosenmann of the entire week's festivities.
Decade of Shack from Alexandra Rosenmann on Vimeo.
Shake Shack is located on the corner of East 23rd Street and Madison Avenue in Madison Square Park.